EuroPride: Latvian hosts should break silence and condemn homophobia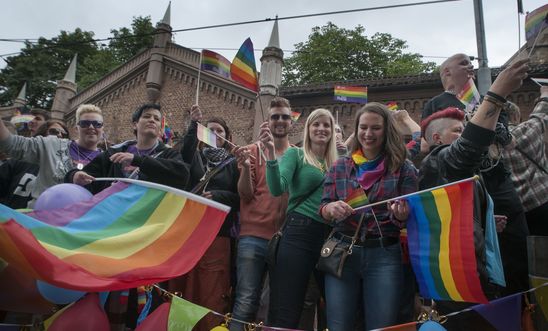 Last year's EuroPride in Oslo © Amnesty International
The Latvian government should break its silence and give a firm commitment to do everything in its power to ensure the safety and protection of those participating in this year's EuroPride in Riga, said Amnesty International today.
EuroPride, which celebrates the rights of lesbian, gay, bisexual, transgender and intersex (LGBTI) people in a different European city every year, will be held in the Latvian capital this Saturday.
This year's EuroPride is the first held in a former Soviet country, a sign of how far LGBTI rights have come in Latvia. In 2005 a national Pride march in Riga was marred by violence and hostility, as 70 activists marched for their rights in spite of more than a thousand counter-protesters who tried to block the march, used teargas and threw eggs at them.
Amnesty activists from around the world will join Latvian LGBTI activists at EuroPride.
While the organisers say law enforcement authorities have been very cooperative, the Latvian government has failed to welcome the event. When asked about it last December, Latvian President Andris Berzins stated that "homosexuality should not be advertised and imposed".
Lucy Freeman, Director of Amnesty International's Gender, Sexual and Identity Programme, said:
"It is disturbing to see the Latvian government's evident discomfort at hosting EuroPride. Instead of welcoming an event meant to champion openness and tolerance, Latvia's leaders seem to be turning their backs on it. As the country holding the presidency of the European Union, Latvia should be leading by example in the fight against homophobic discrimination."

"With homophobic violence a clear and present danger for activists in post-Soviet states, this week's EuroPride will hopefully send a message that progress is possible and deep-seated discrimination can be uprooted and replaced with tolerance."
Kaspars Zalitis, a board member of Mozaika, the Latvian group organizing EuroPride 2015, said:
"The sad fact is the majority of Latvian society is against EuroPride and advancing LGBTI rights remains a struggle: same-sex couples are invisible for the government, homophobic hate crimes are not recognised and high-level politicians employ vicious homophobic rhetoric."
Despite progress on LGBTI rights in the Baltic states and across Europe, the safety and security of pride marches and freedom of expression in general remains under threat in several other former Soviet countries, where homophobic attacks remain a constant threat. On 6 June, the Kiev Pride was marred by homophobic violence which saw 10 protesters and 11 police officers injured. Amnesty said the police did not adequately protect the march.
Only five former Soviet states have passed legislation prohibiting discrimination on the grounds of sexual orientation in employment and only three of them - Georgia, Lithuania and Estonia - have laws on hate crime or incitement to hatred that explicitly include either sexual orientation or gender identity.
Worryingly, Lithuania and Russia have passed laws that restrict the right to freedom of expression of LGBTI activists, when disseminating information and advocating for issues such as equal marriage for same-sex couples. Uzbekistan and Turkmenistan retain laws criminalising sex between adult men.