European governments return nearly 10,000 Afghans to risk of death and torture - new report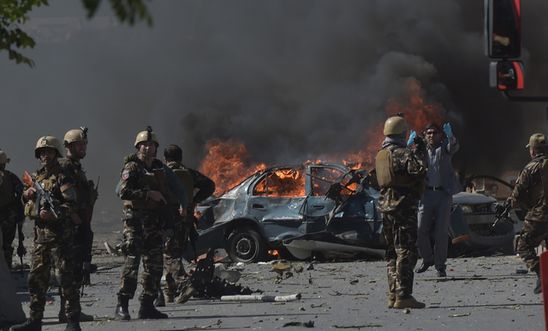 Contrary to claims made by European governments, Afghanistan is becoming more dangerous © SHAH MARAI/AFP/Getty
European governments are wrong to claim parts of Afghanistan are safe - 2016 was deadliest year on record for civilians and 2017 is going the same way
More than 75% of Afghan asylum-seekers in UK have claims rejected and face return to violence and insecurity 
'If the government doesn't stop deporting Afghans, it will have blood on its hands' - Kate Allen
European governments have put thousands of Afghans in harm's way by forcibly returning them to a country where they are at serious risk of torture, kidnapping, death and other human rights abuses, Amnesty International said in a new report published today.
At a time when civilian casualties in Afghanistan are at their highest levels since 2009, the report says, European governments are forcing increasing numbers of asylum-seekers back to the dangers from which they fled, in brazen violation of international law.
The new 45-page report, Forced Back to Danger: Asylum-Seekers Returned from Europe to Afghanistan, details harrowing cases of Afghans who have been returned from Norway, the Netherlands, Sweden and Germany only to be killed, injured in bomb attacks, or left to live in constant fear of being persecuted for their sexual orientation or conversion to Christianity.
While not covered by the report, the UK's record on returning people to Afghanistan is similarly dire and the Home Office continues to reject the vast majority of Afghan asylum claims despite the country's worsening security situation. 
UK will have blood on its hands
Earlier this month, the Home Office was required to bring back Samim Bigzad, a 23-year-old asylum-seeker, after it had returned him to Afghanistan despite court orders instructing it not to do so. Bigzad's case comes after the latest official figures showed that just 518 Afghans were granted asylum in 2016 out of a total of 2,356 decisions made by the Home Office. Last year a total of 80 Afghans were forcibly returned to the country by the UK authorities.
Kate Allen, Amnesty International UK's Director, said: 
"The recent unlawful removal of Samim Bigzad shows just how far the Home Office is prepared to go in putting the lives of people seeking asylum at risk. Afghanistan is not a safe country, there is little sign that violence is abating and the forcible return of Afghans from the UK is nothing less than a matter of life and death.

"By rejecting the vast majority of claims for asylum by Afghans, the UK is setting a worrying precedent which risks encouraging other countries to do likewise. If the government doesn't stop deporting Afghans, it will have blood on its hands."
Afghans forcibly returned from Europe, the report says, include unaccompanied children and young adults who were children at the time when they arrived in Europe. Several people Amnesty interviewed for the report were sent to parts of Afghanistan they had never known, despite the dangerous situation and impunity for crimes such as torture.
Anna Shea, Amnesty International's Researcher on Refugee and Migrant Rights, said:
"In their determination to increase the number of deportations, European governments are implementing a policy that is reckless and unlawful. Wilfully blind to the evidence that violence is at a record high and no part of Afghanistan is safe, they are putting people at risk of torture, kidnapping, death and other horrors."
Hora Mosadiq, Amnesty International's Afghanistan Researcher, said: 
"These returns brazenly violate international law and must stop immediately. The same European countries that once pledged support for a better future for Afghans are now crushing their hopes and abandoning them to a country that has become even more dangerous since they fled."
Forcible returns and civilian casualties soar
The numbers of forcible returns from Europe have soared at a time when civilian casualties recorded by the UN are at their highest levels since the body began systematically documenting figures in 2009.
Meanwhile, according to EU statistics, between 2015 and 2016 there was nearly a threefold increase in the numbers of Afghans returned by European countries to Afghanistan: from 3,290 to 9,460. The returns reflect a marked fall in recognition of asylum applications in EU countries, from 68% in September 2015 to 33% in December 2016.
At the same time, the numbers of civilian casualties have risen, according to statistics from the United Nations Assistance Mission in Afghanistan (UNAMA). In 2016, according to UNAMA, 11,418 people were killed or injured. Attacks on civilians took place in every part of the country and most of them were carried out by armed groups, including the Taliban and the Islamic State armed group. In the first six months of 2017 alone, UNAMA documented 5,243 civilian casualties.
On 31 May, in one of the largest attacks in Kabul's history, more than 150 people were killed and twice as many injured when a bomb exploded near several European embassies.
Killed, injured and living in fear of persecution
Amnesty researchers interviewed several families who hauntingly described their ordeals after being forcibly returned from European countries, losing loved ones, narrowly surviving attacks on civilians, and living in fear of persecution in a country they hardly know.
Sadiqi (not her real name) and her family fled Afghanistan in 2015 after her husband Hadid was kidnapped, beaten and finally released in return for a ransom. Embarking on what would be a months-long journey, they arrived in Norway with hopes of finding a safe future. The Norwegian authorities denied their asylum claim and gave them a choice between being detained before being deported or being given around £9,500 to return "voluntarily. A few months after returning to Afghanistan, Sadiqi's husband disappeared. Days passed without any knowledge of his whereabouts, and she then found out he had been killed. Sadiqi believes his kidnappers murdered him and now even fears visiting his grave.
The Faradic family were also forcibly returned from Norway, in October 2016. The following month they were near the Baqir-ul-Uloom mosque in Kabul when it was bombed, killing at least 27 people. Responsibility for the attack was claimed by ISIS. The intensity of blast was such that Subhas Faradic, then two years old, fell from his mother's arms and was injured. When the family returned home, Subhas began to bleed from his ears. He continues to suffer pain in one ear, several months after the attack.
Farid (not his real name) fled Afghanistan with his family when he was a child. They first made their way to Iran and he subsequently fled alone to Norway, where he converted to Christianity. In May he was deported to Kabul - the scene of the highest levels of violence in Afghanistan, accounting for 19% of all civilian casualties in the entire country last year. Farid had no memories of Afghanistan. Now, he lives in fear of persecution, in a country where armed groups including the Taliban have targeted people for converting to a different faith from Islam. "I am scared," he told Amnesty. "I don't know anything about Afghanistan. Where will I go? I don't have funds to live alone and I can't live with relatives because they will see that I don't pray."
Azad (not his real name), who also grew up in Iran, fled to the Netherlands with his brother. Returned to Afghanistan in May, he identifies as gay and is fearful that his sexual orientation will be discovered by people who wish him harm. He was so frightened of being returned, he attempted suicide prior to his deportation. "I try to be a man here. I'm losing my mind. I am fearing a lot at night - I am really scared," he told Amnesty.
A poisoned cup for the Afghan government
Far from being ignorant of the dangerous situation in Afghanistan, European governments recognised it when the European Union signed the "Joint Way Forward," an agreement to return Afghan asylum-seekers. In a leaked document, EU agencies acknowledged Afghanistan's "worsening security situation and threats to which people are exposed," as well as the "record levels of terrorist attacks and civilian casualties". However, they callously insisted that "more than 80,000 persons could potentially need to be returned in the near future." There is credible evidence that this "need" was expressed in the form of pressure on the Afghan government. Ekil Hakimi, Afghanistan's Finance Minister, told the Afghan parliament: "If Afghanistan does not cooperate with EU countries on the refugee crisis, this will negatively impact the amount of aid allocated to Afghanistan."
Similarly, a confidential Afghan source with knowledge of the agreement described it to Amnesty International as "a poisoned cup" the Afghanistan government was forced to swallow in exchange for aid.
I Welcome campaign
Amnesty's I Welcome campaign calls for a better international response to the global refugee crisis by governments sharing responsibility for hosting and assisting refugees. The campaign also encourages local communities across the UK to work together to create a more welcoming environment for people fleeing conflict and persecution.