EU Withdrawal Bill: Bleak day for human rights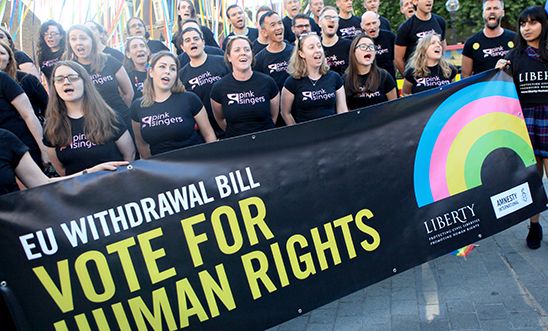 LGBT+ Super Choir urge MPs to vote for human rights ahead of EU Withdrawal Bill vote. © Marie-Anne Ventoura
Responding to tonight's defeat of the Lords amendments which sought to preserve human rights protections after the UK leaves the European Union, Kate Allen, Amnesty International UK Director, said:
"This is a bleak day for human rights in the UK and undoubtedly today's vote leaves people poorer in terms of protections after Brexit. People didn't vote to weaken their human rights, but today MPs at Westminster did.
"The Charter of Rights is the sort of security net that you only come to miss when you need it most, and it's a huge shame that MPs have not recognised its importance as their colleagues in the Lords did just weeks ago.
"There's no good reason for any rights to be reduced through Brexit - in this Bill or anywhere else. Human rights should not be collateral damage in the wider Brexit dispute.
"There's still a chance for these protections to be restored, including during 'ping-pong' between the Houses, and we intend to ensure that they are."
Responding to the successful passing of a Government concession amendment which proposed the General Principles be retained for a limited period after Brexit, Kate Allen added:
"It's a relief that people will be able to rely on the 'general principles' to protect their rights for years after Brexit, but this is a temporary fix, a sticking plaster.
"It buys the Government more time, and has no doubt bought off some of the serious concerns of MPs, but this can't just be a case of kicking the can down the road and forgetting about it."
The Government's original EU Withdrawal Bill proposed three major changes which would reduce or threaten rights and protections for people in the UK after withdrawal:
The Bill fails to retain the EU Charter of Fundamental Rights in domestic law, weakening the protections currently available to people in the UK.

The Bill also gets rid of the right for people to bring a case founded on the EU "general principles", which include protections such as the right to equality.

The Bill hands sweeping powers to Ministers to widely alter legislation without appropriate parliamentary scrutiny, placing current rights and equality laws at risk in
A recent YouGov poll found that three quarters (75%) of those who expressed a view said they'd be concerned to be left with fewer rights after Brexit. More than half of Leave voters (57%) said they too would be concerned to have fewer rights and protections after Brexit.