EU summit: Refugees need safe access to protection, not more barriers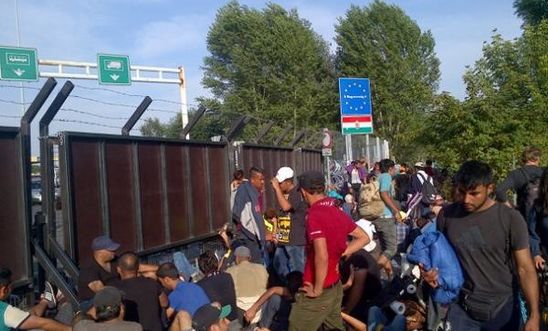 Concern over consent and coercion in relocation schemes
Call for EU support to improve conditions in reception centres
Amnesty tells EU leaders 'failure is not an option' and warns against 'quibbling over quotas'
Spokespeople available in Brussels and London
Instead of sealing borders and deploying riot police, frontline EU countries must allow safe access for people in need of international protection, Amnesty International said, ahead of another round of high-level meetings in Brussels on the refugee crisis. The call comes amid a series of worrying border confrontations in Central Europe.
Tomorrow the home affairs ministers from EU member states will once more attempt to strike a deal on the European Commission proposal to relocate 120,000 asylum-seekers within the EU, following deadlock last week.
Following that, an extraordinary Summit with EU heads of state on Wednesday, will discuss a broader response to the crisis, and pick-up talks on relocation in the event of no deal at ministerial level.
John Dalhuisen, Amnesty International's Europe Director, said:
"Failure is not an option. EU leaders must reach agreement on an organised and compassionate response to the arrivals of refugees and asylum seekers to Europe.

"Some solutions are on the table, what is missing is the political will and leadership to see them through. EU leaders have to show leadership and face the crisis head on; not build more barriers and carry on quibbling over quotas.

"In the absence of an agreed collective response we have witnessed thousands of refugees and asylum-seekers being pushed from pillar to post, without even their basic needs being met.

"This isn't migration management; it's an erosion of humanity.

"As leaders gather again in Brussels, a longer term response to the refugee crisis is desperately needed.  This should involve more safe and legal routes into Europe for refugees and moving towards a truly Common European Asylum system, by providing mutual recognition of asylum decisions, together with greater freedom of movement for recognised refugees."
Last week, member states agreed to establish a temporary and exceptional relocation mechanism for 40,000 people over two years from the frontline member states Italy and Greece to other member states. But this took more than four months of discussions, leaving serious questions over how member states will agree to relocate more.  
Worryingly, the proposals do not require the consent of the person being relocated, which raises serious questions about potential detention and coercive means to force people to move to member states where they may have no family or financial support.
Amnesty is also calling for increased EU support to improve reception conditions and ensure quick access to asylum procedures.