EU: Protection of borders must not come at expense of protection of refugees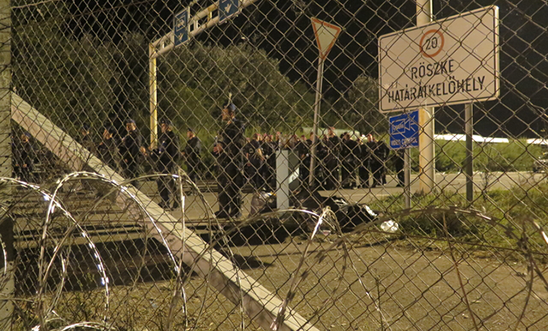 The protection of the EU's external borders must not come at the expense of refugees' rights to protection and the broader human rights of migrants and asylum-seekers, said Amnesty International ahead of the release of the European Commission's proposal for a new body to manage Europe's external land and sea borders.
The announcement due later today is expected to propose a European Border and Coast Guard Agency, which would work directly for Frontex, the EU's border management arm. The new body is likely to be given powers to enforce the protection of the EU's external borders, a significant departure from Frontex's mandate until now, as it has only had the power to "co-ordinate" border protection.
The proposal comes amid a slew of human rights violations documented by Amnesty International at Europe's external borders, at the hands of national authorities, with little to no accountability. Any new agency must be given clear directions on its human rights obligations and effective human rights monitoring measures must be put in place to avoid further abuses, Amnesty warned.
Steve Symonds, Director of the Refugee Rights Programme at Amnesty International UK, said:
"The EU as a whole has shown a shameful lack of leadership on the refugee crisis this year and it is appalling that those fleeing conflict and persecution and looking for safety in Europe are facing human rights abuses here too.

"It is often easier to monitor how governments are behaving when it comes to human rights than organisations acting on their behalf. Whatever the final agreement today, the EU must ensure that protection of borders does not come at the expense of the EU's legal and moral duty to protect some of the world's most desperate people. Ensuring access to asylum is an obligation, not an option, and any government or individual responsible for human rights abuses must be held to account."
Amid the world's worst refugee crisis since the Second World War, rather than working to receive and protect a small fraction of the world's refugees in a dignified manner, EU leaders have sought to prevent their entry into the richest political bloc in the world by deploying an ever-increasing number of border guards, as well as fencing off land borders, and enlisting neighbouring countries, such as Turkey, as gatekeepers. Such practices are exposing refugees and migrants to ill-treatment, and pushing people towards life-threatening sea journeys.
Amnesty has also documented how people who attempted for example to cross the Greek, Bulgarian and Spanish land borders were pushed back by border authorities without access to asylum procedures or a chance to appeal their return, in direct breach of international law. Push-backs are often accompanied by violence and put people's lives in danger. To date, no authority has been held accountable for such practices. This demonstrates the crucial need for accountability mechanisms for border control whether they be European or national.