Egyptian Embassy, London : campaigners to mark two years since Giulio Regeni's death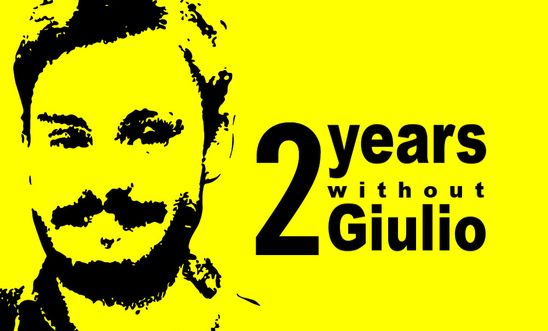 FRIDAY 2 FEBRUARY 2018, 12-1PM
Campaigners will mark the two-year anniversary of the discovery of the body of the murdered Cambridge University student Giulio Regeni with a demonstration outside the Egyptian Embassy in London this Friday.
Mr Regeni, a 28-year-old PhD student at Girton College, Cambridge University, was in Egypt researching trade unions when he went missing in Cairo on 25 January 2016. His badly-mutilated body was found on the outskirts of Cairo on 3 February.
His family, friends and supporters continue to campaign for justice over the case, including by calling for all those responsible for abducting and murdering Mr Regeni to be held responsible, as well as those who may have blocked attempts to uncover the full circumstances of the student's death. 
Attendees at the embassy event on Friday will hold "Truth for Giulio" placards and be available for interview. 
Where: Egyptian Embassy, 26 South Street, London W1K 1DW
When: Friday 2 February 2018, 12-1pm
Who: Daisy Eyre (President of Cambridge University Students' Union); Dr Joanna de Groot (President of University and College Union); Sue Woodsford (Chair of Cambridge City Group); Paz Zarate (friend of Giulio Regeni)
What: demonstration on behalf of the "Truth for Giulio" campaign
Last Thursday, an Amnesty vigil for Mr Regeni was also held in Cambridge, with some 150 people attending. The event included a minute's silence at 7.41pm, the exact time of the last known communication with Regeni before he was abducted in Egypt.