Egypt: release of jailed human rights lawyer is 'rare moment of justice'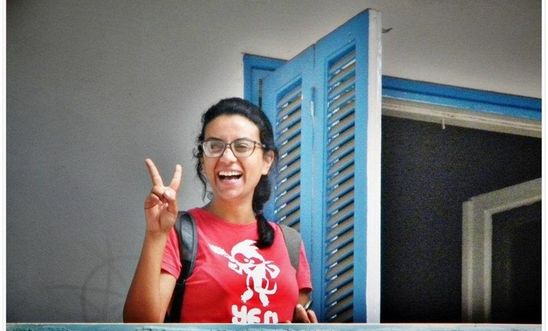 Mahienour el-Massry was sentenced to two years in prison for 'participating in an unauthorised protest' © Mohamed Hosny
Lawyer Mahienour el-Massry is one of numerous human rights defenders under attack from the Egyptian authorities
'Rare moments of justice like this offer a glimmer of hope to the thousands of other people detained in Egypt'
In response to the release of the Egyptian human rights lawyer Mahienour el-Massry from prison today, Najia Bounaim, Amnesty International's North Africa Campaigns Deputy Director, said:
"This is fantastic news for Mahienour who walks free today. She should never have spent a moment behind bars, as she was detained only because of her peaceful activism in Egypt. 

"Her release will come as a huge relief for her family and all those who mobilised tirelessly on her behalf. 

"Rare moments of justice like this offer a glimmer of hope to the thousands of other people detained in Egypt without legitimate reason as part of the authorities' ongoing crackdown on activists and civil society. 

"We are encouraged that one day soon they too will see justice prevail and, until then, we will continue to campaign for their release.

"The Egyptian authorities must now stop arbitrarily detaining people and halt the brutal crackdown on human rights. We also look forward to the release of Moataseem Medhat who was acquitted in the same case alongside Mahienour."
Jailed over Saudi islands protest
On 14 June 2016, el-Massry, Moataseem Medhat - a labour rights activist - and fellow activists Asmaa Naeem, Walee el-Amry and Ziad Abu el-Fadl, participated in a protest in the city of Alexandria against the Egyptian government's decision to hand over control of two islands, Tiran and Sanafir, to Saudi Arabia. 
On 18 November 2017, a court in Alexandria ordered the detention of el-Massry and Medhat until a verdict in December. On 30 December 2017, the same court sentenced the pair to two years in prison for "participating in an unauthorised protest" and "show of force". The court also sentenced the three other activists to three years in prison, in absentia. 
Last weekend (13 January), the Montazah Misdemeanor Court of Appeals acquitted el-Massry and Medhat of all charges.
Azza Soliman
Amnesty continues to raise the cases of a number of other Egyptian human rights defenders, including Azza Soliman, a lawyer who works on torture, domestic violence and rape cases. In response to her human rights work, the Egyptian authorities have harassed her and labelled her a "spy". She is currently facing three trumped-up charges - tax evasion, operating a civil society organisation without proper registration, and slandering Egypt's image and reputation by claiming Egyptian women are at risk of rape. Her assets have been frozen and she is banned from travelling. If found guilty, Ms Soliman faces a lengthy jail sentence.