Egypt: former presidential candidate given jail term in 'politically-motivated' conviction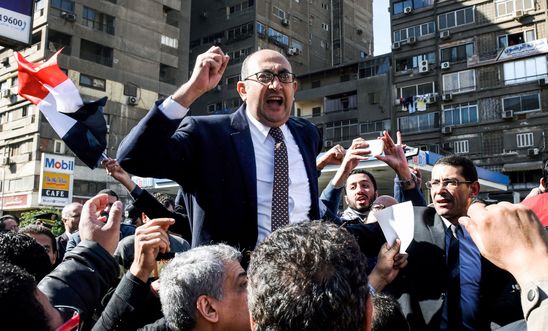 Khaled Ali celebrating in January after a court ruling invalidating a government agreement to hand over two Red Sea islands to Saudi Arabia © MOHAMED EL-SHAHED/AFP/Getty Images
Lawyer Khalid Ali, leading rival to President Sisi, given jail term in bid to stop him running in 2018 election
'His conviction on this absurd charge must be quashed' - Najia Bounaim
Today's conviction of Khalid Ali, a former Egyptian presidential candidate and prominent human rights lawyer widely viewed as President Abdel Fattah al-Sisi's top contender for the 2018 presidential elections, is "politically-motivated", said Amnesty International. 
Khaled Ali was sentenced to three months in prison which would prevent him from standing in the 2018 presidential elections if the verdict is confirmed on appeal. 
A court found him guilty of "violating public decency" in relation to a photograph showing him celebrating a court victory after successfully reversing a controversial Egyptian government decision to hand over control of two Red Sea islands to Saudi Arabia. He was released on bail pending appeal.
Khaled Ali's trial was riddled with flaws. The court issued its decision without hearing the defence lawyers' final pleas or allowing them to cross-examine witnesses for the prosecution about disputed video evidence submitted against Khaled Ali, which his defence lawyers argued was fabricated. 
Najia Bounaim, Amnesty International's Head of North Africa Campaigns, said:
"It beggars belief that Khaled Ali, a prominent human rights lawyer and political activist, has been given a jail term simply for celebrating his victory in a court case. 
"His conviction on this absurd charge must be quashed.
"Khaled Ali's politically-motivated conviction today is a clear signal that the Egyptian authorities are intent on eliminating any rival who could stand in the way of President Abdel Fattah al-Sisi's victory in next year's elections. It also illustrates the government's ruthless determination to crush dissent to consolidate its power."
Earlier this year, Amnesty warned that the Egyptian authorities had intensified a crackdown on opposition activists ahead of the 2018 presidential election by rounding up activists from opposition parties.