Egypt: crackdown on protesters is 'betrayal' of 2011 revolution - new report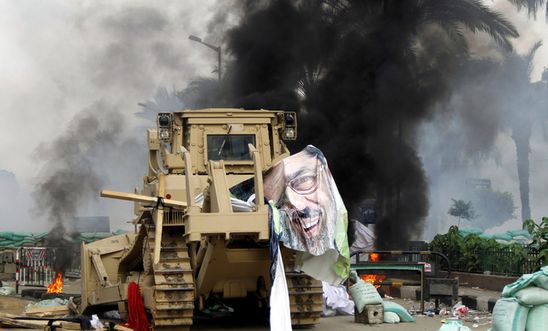 Riot police clearing Rabaa Adawiya square in Cairo on 14 August 2013 © REUTERS/Mohamed Abd El Ghany
'Three years on, the demands of the "25 January Revolution" for dignity and human rights seem further away than ever' - Hassiba Hadj Sahraoui
The Egyptian authorities are using every resource at their disposal to quash dissent and trample on human rights, said Amnesty International in a new report published today (23 January) ahead of the third anniversary of 2011's "25 January Revolution". 
The 46-page report - Roadmap to repression: No end in sight to human rights violations - paints a bleak picture of the state of rights in Egypt since the ousting of President Mohamed Morsi last July. 
Amnesty's report outlines how the Egyptian authorities have restricted freedom of expression and assembly, and introduced repressive legislation making it easier for the government to silence its critics and crack down on protests. Security forces have been given free rein to act above the law, with no real prospect of being held to account for abuses. Since the "25 January Revolution" just a handful of low-ranking security forces have been convicted over the deaths of protesters. 
In recent months, the country has seen violence on an unprecedented scale, with the security forces committing gross human rights violations, including routinely using excessive force against opposition protesters. Since 3 July, 1,400 people have been killed in political violence, most of them due to excessive force used by the security forces. No proper investigation has been carried out into the deaths of more than 500 Morsi supporters when excessive force was used to disperse a sit-in at the Rabaa al-Adawiya mosque in Cairo in August, and not a single member of the security forces has been charged in connection with the incident.
Ahead of the third anniversary of the 2011 uprising, Egypt's interior minister Mohamed Ibrahim has warned that prisons and police stations have been secured with heavy weapons, in what has been interpreted as an apparent dare to anti-government elements try to test their strength.
Amnesty International Middle East and North Africa Deputy Director Hassiba Hadj Sahraoui said:

 

"Three years on, the demands of the '25 January Revolution' for dignity and human rights seem further away than ever. Several of its architects are behind bars, and repression and impunity are the order of the day.

 

"The judiciary is being used to punish government opponents while allowing perpetrators of human rights violations to walk free.

 

"Unless the authorities change course and take concrete steps to show they respect human rights and the rule of law - starting with the immediate and unconditional release of prisoners of conscience - Egypt is likely to find its jails packed with unlawful detained prisoners and its morgues and hospitals with yet more victims of arbitrary and abusive force by its police.

 

"The authorities must loosen their stranglehold on civil society and allow peaceful protests and other avenues for lawful dissent. Their current policies are a betrayal of all the aspirations for bread, freedom and social justice of the '25 January Revolution'."
Crackdown on protests
In recent months hundreds of students have been arrested during protests and clashes. In one emblematic case in November, a 19-year-old student Mohamed Reda was shot dead at Cairo University when riot police fired teargas and shotguns inside the university grounds. Meanwhile, prominent "25 January Revolution" activists are today in jail for daring to call for accountability and human rights. 
There have also been attacks on journalists and media freedom, as well as raids and attempts to place further restrictions on non-governmental organisations. Nevertheless, in a speech last weekend President Adly Mansour described the newly-adopted Egyptian constitution as paving the way for building a country that "respects freedom, democracy and makes rights and justice a way of work and life."
Clampdown in Muslim Brotherhood
Thousands of perceived Muslim Brotherhood supporters and members have been rounded up by the security forces for criticising last year's removal of Mohamed Morsi and last month the group was officially designated a "terrorist organisation", making it even easier for the authorities to crack down on its supporters. On 23 December at least 1,055 charities affiliated with the Muslim Brotherhood had their assets frozen.