Egypt: 22 more arrests in biggest crackdown on LGBTI community for a decade-and-a-half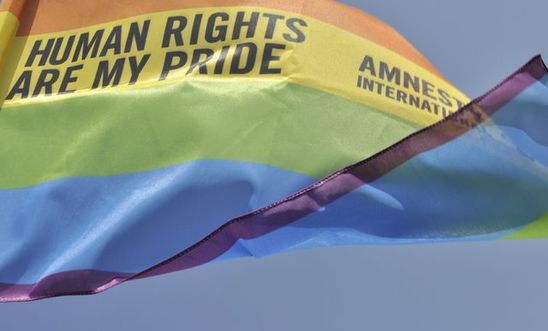 Crackdown comes after a rainbow flag was raised at a Mashrou' Leila concert in Cairo on 22 September
33 now in custody, with arrests in Cairo, Giza and Damietta
Crackdown comes after rainbow flag raised at music concert
'The Egyptian authorities' announcement that they are investigating the rainbow flag incident as a criminal act is utterly absurd' - Najia Bounaim
The Egyptian authorities have arrested 22 people over the past three days, stepping up a campaign of persecution against LGBTI people in the country which began after a rainbow flag was displayed at a Mashrou' Leila concert in Cairo, Amnesty International said today.
The arrests bring the total number of people who have been detained based on their perceived sexual orientation to 33 - 32 men and one woman - since the Public Prosecutor announced an investigation into the rainbow flag "incident" on 25 September. The Forensic Medical Authority has carried out anal examinations on at least five of those arrested. All those detained are facing interrogations and significantly expedited trial proceedings.
According to the Egyptian Initiative for Personal Rights, at least ten people were arrested between last Thursday and Saturday, and put on trial yesterday, alongside another six who were arrested earlier in the week. 
Meanwhile, yesterday a man was detained in the Mediterranean port city of Damietta in relation to the rainbow flag incident. Six further people were also detained in Cairo in the last 48 hours for promoting "habitual debauchery" through online dating applications, and four further arrests occurred in Giza, also in the last 48 hours. The authorities have also detained a woman suspected of raising the rainbow flag at the concert. She has been charged with "promoting sexual deviancy" and "habitual debauchery" in the first such incident involving a woman in Egypt in years.
On 23 September, a day after the Mashrou' Leila concert in Cairo, a 19-year-old man was arrested on charges of "debauchery". Last week he was sentenced to six years in prison, followed by six years' probation. Two other men who were arrested last week are currently detained in Agouza police station in Cairo and are due to stand trial on 11 October. Another two men were arrested on 28 September and are detained in Dokki police station in Cairo.  
Najia Bounaim, Amnesty International's North Africa Campaigns Director, said:
"This is the worst crackdown against people based on their perceived sexual orientation since the mass arrests of 52 people following a raid on the Queen Boat, a floating nightclub on the Nile, in 2001.

"The scale of the latest arrests highlights how dangerously entrenched homophobia is within the country. 
 
"The Egyptian authorities' announcement that they are investigating the rainbow flag incident as a criminal act is utterly absurd. 

"No one should be punished for expressing solidarity with LGBTI individuals or based on their perceived sexual orientation.

"The authorities must urgently halt this ruthless crackdown and release all those arrested immediately and unconditionally."
Amnesty is calling on the authorities to immediately and unconditionally release the 33 who have been detained and halt all plans to carry out further anal examinations. Such tests violate the prohibition against torture and other ill-treatment under international law.