Derry Girls and MPs call on Northern Ireland Secretary to decriminalise abortion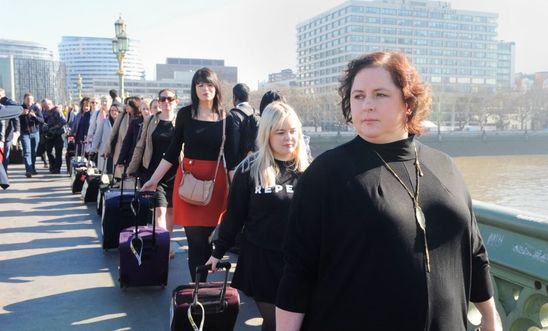 28 women - the number of women who fly from Northern Ireland for an abortion each week - marched on Parliament today to demand abortion rights
Demonstrators included Derry Girls actors and MPs Diana Johnson, Heidi Allen, Karin Smyth, Christine Jardine and Stella Creasy
They delivered Amnesty's 64,000-strong petition to Westminster's Northern Ireland Office
*** Pictures and infographic can be downloaded here. Photo credit: Adam Friedman/Amnesty UK ***
An Amnesty International demonstration for Northern Ireland abortion rights took place at Westminster today.
A group of 28 women – representing the number of women who travel from Northern Ireland to England or Wales for an abortion each week – took part in a 'suitcase march' to deliver Amnesty's petition to the Secretary of State for Northern Ireland demanding that abortion is decriminalised.
The 28 women – including Derry Girl cast members Siobhan McSweeney and Nicola Coughlan; women who have been affected by Northern Ireland's restrictive law; cross-party MPs Karin Smyth, Diana Johnson, Heidi Allen, Christine Jardine and Stella Creasy; and abortion rights activists – marched with suitcases from Westminster Bridge to the Northern Ireland Office.
Abortion rights groups Family Planning Association, Marie Stopes and BPAS also joined Amnesty's march.
Quotes:
Siobhan McSweeney, who plays Sister Michael in TV series Derry Girls, said:
"Today we marched for our sisters in the North who have been forced to suffer under one of the most oppressive and severe abortion laws in the world for far too long. It's 2019, yet women in Northern Ireland still face restrictions on their reproductive rights that women across the rest of the UK and Ireland do not. It's our time for change."
Nicola Coughlan, who plays Clare Devlin in Derry Girls, said:
"It's almost unbelievable that women in Northern Ireland are still being persecuted by a Victorian-era abortion ban. During the Repeal movement in Ireland last year we had so much support. Now it's time to use the momentum from that to help change things for the North. We marched today to show the UK Government that we won't stop until women in Northern Ireland get their rights."
Grainne Teggart, Amnesty's Northern Ireland Campaign Manager, said:
"Northern Ireland is now isolated as the only part of the UK and Ireland with a near total abortion ban. This is unacceptable. For too long Northern Irish women have been governed by an archaic law that denies them their rights, health and autonomy. 62,000 people have spoken and all eyes are now on the Secretary of State - it's time for Westminster to act."