David Cameron must not shy away from discussing human rights with the Chinese Premier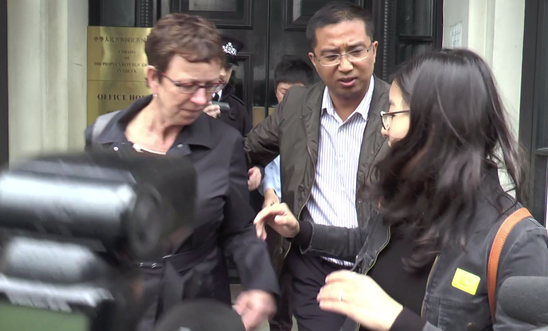 Amnesty UK Director Kate Allen and activist Ti-Anna Wang removed from steps of Chinese Embassy , 4 June 2014 © (c) Amnesty International
David Cameron should not shy away from the subject of human rights as he meets with the Chinese Premier Li Keqiang this week warns Amnesty International.
This visit by Mr Li is the latest in a series of meetings between the UK government and the Chinese authorities to discuss commercial opportunities. In the past 12 months David Cameron, George Osborne and the Mayor of London Boris Johnson visited China to discuss commercial interests.
China has recently been elected to the UN Human Rights Council however their human rights practices have not improved. Death sentences continue to be handed down, lawyers and activists who campaign for human rights continue to be targeted and harsh measures are meted out to those who criticise the authorities.
Earlier this month Amnesty's UK director Kate Allen and Ti-Anna Wang - the daughter of Wang Bing Zhang, a jailed veteran pro-democracy activist - were assaulted by Chinese embassy officials in London when they laid flowers to mark the 25th anniversary of the 4 June crackdown. Amnesty is urging the UK Government to ensure that commercial interests are not neglected to the detriment of strong human rights practices and policies.
Amnesty International UK Director Kate Allen said:
"Li Keqiang has said that he doesn't want his country to be lectured about human rights. However it would be remiss of the UK Prime Minister to not raise the subject given the worrying practices going on in the country. David Cameron is extremely convincing when he's discussing commercial interests with this burgeoning superpower. He must not cower into a corner on the important matter of human rights. They must be an integral subject for discussion."