China: Government must not detain peaceful protesters as 'unprecedented' demonstrations break out across country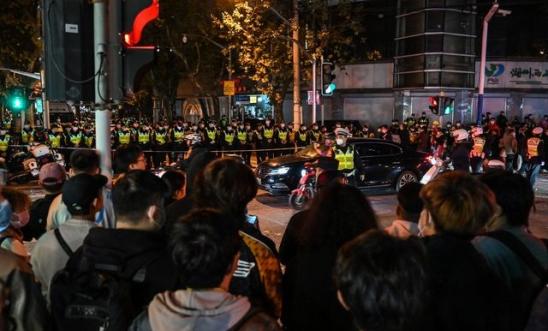 © AFP via Getty Images
Responding to protests that have broken out across China against Covid-19 restrictions, Hana Young, Amnesty International's Deputy Regional Director, said:
"The tragedy of the Urumqi fire has inspired remarkable bravery across China.

"It is virtually impossible for people in China to protest peacefully without facing harassment and prosecution. Authorities have shown zero tolerance to opposition, especially in the last 10 years under President Xi, but this has not stopped the protests.

"The Chinese authorities must let people express their thoughts freely and protest peacefully without fear of retaliation.

"Unfortunately, China's playbook is all too predictable. Censorship and surveillance will continue, and we will most likely see police use of force and mass arrests of protesters in the coming hours and days, with long prison sentences against peaceful protesters also to be expected.

"These unprecedented protests show that people are at the end of their tolerance for excessive Covid-19 restrictions.

"The Chinese Government must immediately review its Covid-19 policies to ensure that they are proportionate and time-bound. All quarantine measures that pose threats to personal safety and unnecessarily restrict freedom of movement must be suspended.

"The Government also needs to promptly, effectively and thoroughly investigate the Urumqi fire, to avoid a reoccurrence, bring justice to the victims and their families, and show the people they are responsive to their grievances."
Unprecedented protests
On Thursday 24 November, a fire broke out in an apartment building in Urumqi killing at least 10 people, according to government sources. Many blamed Covid-19 restrictions for the deaths but local authorities have disputed this claim.
Protests subsequently broke out in Urumqi, the capital of the western region of Xinjiang. The next morning, the government declared that the Covid outbreak was under control and the city would ease lockdowns, following more than 100 days of severe restriction on inhabitants' movement.
Since 25 November, videos shared on social media show protests breaking out across universities and cities throughout China, including in Beijing, Guangdong, Shanghai and Wuhan. Peaceful protesters commemorated victims of the Urumqi fire and called for the easing of lockdown measures. Many also demanded and end to censorship and some called for President Xi to step down.
At least one woman was arrested in Urumqi for "spreading rumours" according to official sources. Dozens were arrested on Urumqi Road in Shanghai evening of November 26 according to online sources. Protests are ongoing.
Amnesty is not able to independently verify all the online videos now being circulated from multiple cities.