China: Detention of activist mid-interview is 'shocking and outrageous'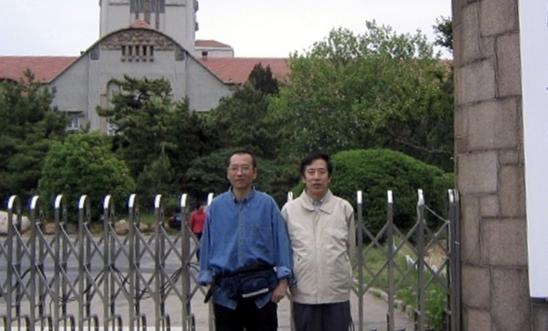 Sun Wenguang (right) pictured with Liu Xiaobo in May 2005 © © Private
The detention of prominent activist Sun Wenguang as he gave a live interview in China is a disturbing example of how the authorities are determined to silence dissidents, Amnesty International said today.
Professor Sun Wenguang was in the middle of an interview with US broadcaster Voice of America when police entered his home in the city of Jinan and forced him off air on Wednesday.
The 84-year-old has been openly critical of the Chinese government in the past. He was last heard to say "I have my freedom of speech", before being stopped from speaking further.
Patrick Poon, China researcher at Amnesty International, said:
"It's shocking and outrageous to see Sun Wenguang taken away in the middle of doing a live interview in his own home.

"This is a vivid example of how the Chinese authorities are desperate to clamp down on free speech. It is disturbing that police can harass dissidents anytime and anywhere they like.

"It's disgraceful that this renowned intellectual was suddenly cut off by police officers in the middle of an interview and detained simply for speaking his mind."
Professor Sun's whereabouts currently remain unknown.