China: crackdown shows authorities still 'running scared of spirit of Tank Man' 25 years after Tiananmen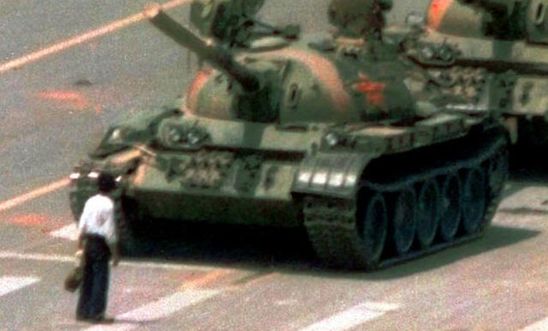 On the eve of the 25th anniversary of the Tiananmen Square crackdown, Amnesty International has documented a further 30 activists who have been persecuted as the Chinese authorities attempt to suppress commemoration of the crackdown.
Those targeted in the past few days include Luo Xi, a student activist in 1989 who has been detained and Bao Tong, 81, a former political aide to the late Communist Party leader Zhao Ziyang, who opposed the crackdown in 1989. Bao has been forced to leave Beijing.
At least 66 people have now been detained by the Chinese authorities in connection with the Tiananmen anniversary.
Amnesty International UK Director Kate Allen said:

"For 25 years China has ruthlessly suppressed what happened in Tiananmen Square on 4 June 1989, trying to erase every last trace of it.

"Yet, the truth lives on - in numerous unforgettable images and in the memories of scores of survivors of the Tiananmen bloodshed.

"Recent arrests of Tiananmen campaigners in China just show that the authorities are still running scared of the spirit of 'Tank Man'."
Amnesty has documented the following detention and persecution of people related to Tiananmen in recent weeks:
18 activists imprisoned including prominent human rights lawyers Chang Boyang and Pu Zhiqiang
20 people placed under house arrest, including Ding Zilin, spokesperson for the 'Tiananmen Mothers' who is not allowed to return to Beijing
10 individuals missing, believed to be detained  
10 people forced by police to travel to different cities in China, accompanied by National Security Officers, in an attempt to prevent them from marking the anniversary
A further 12 people have been questioned by police in recent weeks in relation to the Tiananmen anniversary.
See a full list including the names of individuals and dates when they were detained
These are minimum figures that Amnesty has been able to verify and more may have been detained or had restrictions placed upon them ahead of tomorrow.
Amnesty International reiterates its calls on the Chinese government to:
- Publicly acknowledge the horrific human rights violations which occurred in the Tiananmen crackdown of 1989;
- Launch an open and independent inquiry and hold those responsible for human rights violations accountable;
- Provide compensation to victims of the 1989 crackdown and their families;
- Cease harassment and prosecution of those commemorating or speaking out about the 1989 protests and crackdown.
Remembrance event in London tomorrow
Tomorrow at 11am, 25 survivors and other dissidents related to Tiananmen will go to the Chinese embassy in London, dressed in black, with Amnesty International UK Director Kate Allen, where they will lay red roses in an act of defiance against the Chinese government and of remembrance for those who died.
Because the steps of the embassy are officially Chinese territory, the flower-laying is a direct act of defiance of the Chinese government's ban on commemorating the crackdown.
For interviews and images, contact the press office.