China: Booming torture trade revealed in new report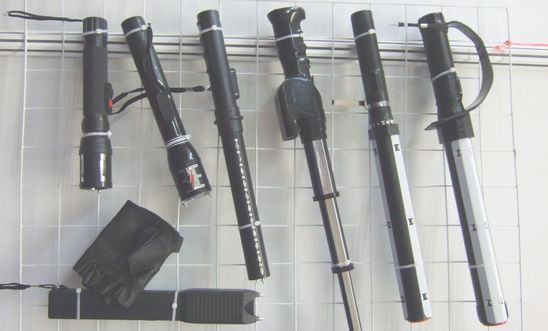 Chinese electric shock stun batons © Robin Ballantyne
Industry has more than quadrupled in the last decade
UK serial offender in allowing banned torture equipment to be advertised in London arms fair - "We want assurances that this is the end of the UK playing the dirty role of matchmaker between trader and torturer."
The uncontrolled trade, manufacture and export of tools of torture by Chinese companies is equipping torturers all over the world, Amnesty International said today as it published new research conducted in partnership with the Omega Research Foundation.
Chinese companies – most of which are state-owned – have an increasingly strong presence in the global market for law enforcement equipment.
The 38-page report details how the industry has more than quadrupled in the last decade with more than 130 Chinese companies involved in the production and trade of dangerous law enforcement equipment – compared to only 28 Chinese companies ten years ago. 
Many of the devices openly marketed by the companies are cruel and inhumane tools of torture which should be immediately banned such as electric shock stun batons, metal spiked batons, weighted leg cuffs, rigid restraint chairs and neck combination cuffs.
Yet even the equipment that could have a legitimate use in policing such as tear gas and plastic projectiles or riot control vehicles, is being exported from China despite substantial risks of serious human rights violations by the receiving law enforcement agencies.
The report also criticises the UK for repeatedly hosting an arms fair where illegal equipment is advertised. Last September Chinese exhibitor Tianjin Myway International was ejected from London Dockland's Defence and Security Equipment International (DSEi) exhibition for advertising electric shock stun guns in its company brochure.  It was the third successive DSEi exhibition where banned equipment was on sale.
At other UK arms fairs Chinese companies Famous Glory Holdings and Echo Industrial Co Ltd have advertised leg cuffs, a range of electro shock stun guns and batons.
The Government and organisers have made numerous promises and commitments over the years to clamp down on this practice, but it is only after images have been circulated that the organisers kick out the offending companies.
Oliver Sprague, Amnesty International's Arms Programme Director, said:
"The UK government has never prosecuted any company for illegally peddling torture equipment at UK arms fairs, despite numerous repeat offences dating back over a decade.

"The UK's public rhetoric is that it has the strongest laws to ban this trade, but its actions so far have demonstrated the complete opposite.

"We want assurances that this is the end of the UK playing the dirty role of matchmaker between trader and torturer.

"There is no way we should be involved in this grim torture industry."
The next DSEi fair is planned for September 2015.
Spiked batons
China is the only country known to manufacture spiked batons – which have metal spikes along the entire length of the baton or are plastic batons with a spiked metal head. These are specifically designed as implements of torture.
Seven Chinese companies openly advertise these inhumane sticks for export. Chinese-manufactured spiked batons have reportedly been used by police in Cambodia and exported to security forces in Nepal and Thailand.
Electric stun batons
29 Chinese companies involved in the export trade were advertising electric stun batons. These devices make it easy for security officials to apply extremely painful multiple shocks by hand to sensitive areas of the body including the genitals, throat, groin or ears without long-lasting physical traces.
Amnesty and Omega found evidence of what appear to be Chinese manufactured electric shock batons being carried by police in Ghana, Senegal, Egypt and Madagascar.
Weighted leg cuffs, rigid restraint chairs, neck combination cuffs
Scores of Chinese companies manufacture and sell abusive restraint devices including heavy weighted leg cuffs and rigid restraint chairs; one company manufactures neck combination cuffs. These neck devices can endanger an individual's life by restricting breathing, blood circulation and nerve communication between the body and the brain.
A review of several of the companies' marketing materials reveals this equipment is being sold to various law enforcement agencies across the world, including agencies that persistently abuse human rights. 
One company – China Xinxing Import / Export Corporation – which has advertised equipment including thumb cuffs, restraint chairs, electric shock stun guns and batons – stated in 2012 that it has links with more than 40 African countries and its trade with Africa was worth more than US$100 million (£61 million).
Patrick Wilcken, security trade and human rights researcher at Amnesty International, said:
"This trade – which causes immense suffering – is flourishing because the Chinese authorities have done nothing to stop companies supplying these sickening devices for export or to prevent policing equipment falling into the hands of known human rights abusers.

"There is no excuse whatsoever for allowing the manufacture and trade in equipment for which the primary purpose is to torture or inflict cruel, inhuman or degrading treatment on people.

"These heinous acts are totally banned under international law and Chinese authorities should immediately place a ban on the production and trade in such cruel and inhumane devices."