Central African Republic: EU must urgently deploy peacekeepers after fresh violence against civilians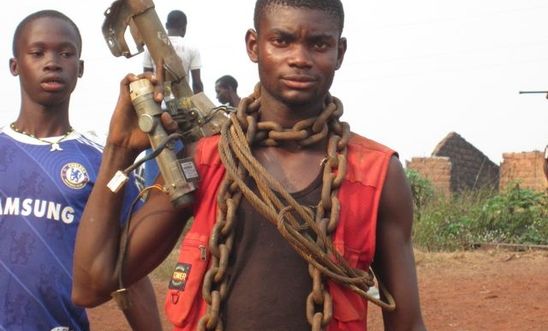 An anti-balaka militia member © Amnesty International
The European Union must immediately deploy peacekeeping troops to protect civilians in the Central African Republic amid a worrying new surge in violence, said Amnesty International this afternoon.
In recent days, areas of the capital Bangui have increasingly come under the control of "anti-balaka" militias, who have launched repeated attacks on civilians and African Union-led MISCA peacekeepers.
This month, the Red Cross has recorded at least 15 civilian deaths in Bangui, and the NGO Médecins Sans Frontières has treated almost 40 people for life-threatening wounds sustained in attacks. A MISCA peacekeeper was also killed in the town of Boali and several more have been injured in a number of anti-balaka attacks against MISCA personnel in the capital.
These fresh new attacks have taken place despite a new transitional government taking office in January, as well as the presence of 6,000 African Union-led MISCA troops and 2,000 French soldiers.
The UN Secretary General has proposed sending a 12,000-strong UN peacekeeping force to the country, but it cannot deploy until September. In the meantime, the EU promised the rapid deployment of up to 1,000 soldiers to the country. Despite these promises, no troops have materialised.
Since the escalation of violence last December, Amnesty experts have made three trips to the Central African Republic, as well as to refugee camps in neighbouring Chad. Amnesty was the first to document ethnic cleansing of the country's Muslim population in January. Extrajudicial executions, torture, looting and other atrocities have been perpetrated against civilians on a daily basis.
Christian Mukosa, Central Africa Researcher at Amnesty, said:

"This flare-up in violence is cause for serious concern, given the backdrop of ethnic cleansing, war crimes and crimes against humanity across the Central African Republic since last December.

"It is just further evidence of what Amnesty International has been saying for months – that the small contingent of peacekeeping troops on the ground will not be able to protect civilians effectively without more help from the international community.

"An even greater humanitarian crisis looms if nothing is done to tackle this situation. The EU's immediate deployment of troops is literally a life-and-death decision."