Candle-lit vigil for Saudi Arabian blogger Raif Badawi at Belfast City Hall, Thursday 5pm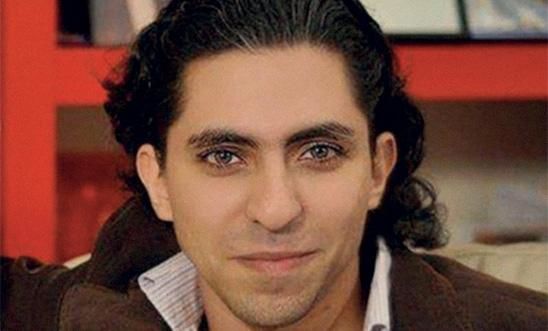 Amnesty International will hold a candle-lit protest vigil for the blogger and free speech activist Raif Badawi outside Belfast City Hall at 5pm tomorrow (Thursday 22 January).
Protesters holding large photographs of the activist with "Free Raif" slogans will line the pavement in front of Belfast City Hall.
The #FreeRaif vigil comes amid fears the 31-year-old blogger will be flogged again on Friday despite international outcry.
Mr Badawi, a 31-year-old father-of-three, is serving a ten-year jail sentence - as well as facing 1,000 lashes and a heavy fine - for offences related to his setting up the Saudi Arabian Liberals website, an online forum for public debate, as well as accusations that he insulted Islam.
On 9 January Badawi was subjected to 50 lashes in a public square in the city of Jeddah, the first of 20 weekly batches of floggings the activist is due to receive. Last Friday the lashes were called off after a prison doctor reportedly examined Badawi and said his wounds from the first week's flogging hadn't healed sufficiently for him to be flogged again.
Badawi's case is thought to be the subject of a current review by Saudi Arabia's Supreme Court, but despite an international outcry Amnesty fears the blogger could be lashed again this Friday. Nearly three-quarters of a million people have supported an Amnesty campaign calling for the Saudi authorities to call off the flogging and release Mr Badawi.
Meanwhile, Amnesty has been critical of the UK government for failing to speak out strongly about the case, with the organisation accusing UK ministers of "wearing the Saudi muzzle" in its muted response.
Amnesty protests are also planned in London, Edinburgh and Dublin, as well as in numerous countries around the world – including Belgium, Canada, Germany, Hungary, the Netherlands, Norway and Switzerland.
Amnesty spokesperson Patrick Corrigan will be available for interview from the event.
What: candle-lit protest vigil with Raif Badawi photographs and Free Raif posters
Where: front of Belfast City Hall
Who: Patrick Corrigan, Amnesty International, and about fifty campaigners
When: 5-6pm on Thursday 22 January.