Canada must halt massive British Columbia dam on indigenous peoples' land - new report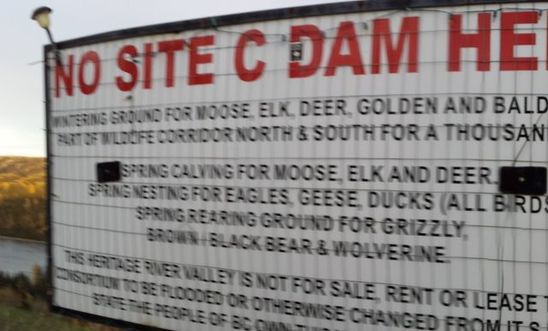 Opposition to the dam proejct is growing © Amnesty International Canada
'Site C' dam will flood over 60 miles of traditional territory of West Moberly and Prophet River first nations 
Global campaign launched on International Day of the World's Indigenous Peoples  
A massive hydro-electric dam now under construction in the Canadian province of British Columbia violates Canada's commitments to uphold the human rights of indigenous peoples, said Amnesty International in a new report today.  
The dam, known as the "Site C" dam, is set to flood more than 60 miles of the Peace River and its tributaries in land that forms part of the traditional territories of numerous indigenous peoples in the region. 
Canadian government officials have openly acknowledged that the decision-making process leading to the approval of construction at the site never considered whether building the dam was compatible with its legal obligations toward the indigenous peoples. Construction has gone ahead despite the fact that the West Moberly and Prophet River first nations are currently challenging the dam project in court.
Amnesty is pointing out that the dam's construction is particularly concerning because widespread oil and gas development - and other resource extraction activities in the region - have already greatly reduced lands still available for indigenous peoples to conduct ceremonies, harvest food for their families or teach their children about their cultures and traditions.
Chief Roland Willson of the West Moberly First Nations told Amnesty International:
"We've never said no to the production of energy. We've said, let's protect the valley. It's the last piece of our backyard that's relatively untouched."
Chief Lynette Tsakoza of the Prophet River First Nations said:
"It is not too late to change course. The damage to the Peace River is not yet irreversible. Stopping Site C is a perfect opportunity to demonstrate to all Canadians that the government takes reconciliation seriously."
Amnesty's 20-page report -
The point of no return: The human rights of indigenous peoples in Canada threatened by the Site C dam
 - marks the beginning of a global campaign by Amnesty to halt the Site C's construction and is published on International Day of the World's Indigenous Peoples. More than 46,000 people have already signed an Amnesty Canada petition against the dam and Amnesty is now encouraging its members worldwide to write to Canadian government officials to urge an immediate halt to the dam's construction.
Amnesty International's Americas Director Erika Guevara-Rosas said:
 

"Construction of the Site C dam illustrates the persistent gap between rhetoric and reality when it comes to the rights of indigenous peoples through the Americas.

 

"Rights protected under an historic treaty, the Canadian Constitution and international human rights standards have been pushed aside in the name of a development project that has no clear purpose or rationale and that does not have the consent of the indigenous nations that will suffer the consequences of its construction.

 

"It's not enough for governments to say that they respect the rights of indigenous peoples, they must act to consistently uphold these rights. Anything else is a continuation of the same patterns of racism and discrimination that have led to centuries of impoverishment and dispossession for indigenous peoples throughout the globe."