Campaigners call for release of vulnerable British businessman jailed in Iran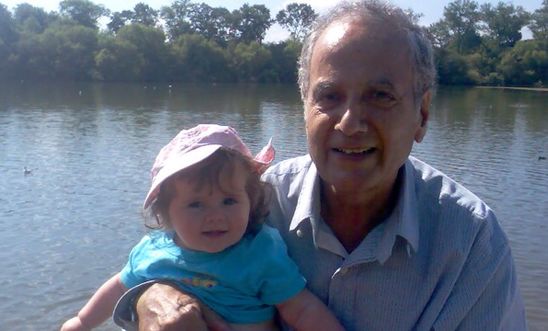 Kamal Foroughi with one his grandchildren © Private
'We don't understand why he hasn't been released, nor why he was arrested in the first place' - Kamal Foroughi's son Kamran
21,000-signature petition to be handed in to Iranian Embassy in London on Thursday
Amnesty International is calling for a British businessman jailed in Iran to be urgently released under Iranian early-release rules.
Kamal Foroughi, a 76-year-old consultant with the oil and gas company Petronas, is serving an eight-year jail sentence in Evin Prison in Iran after being convicted of espionage and possessing alcohol. 
Foroughi was originally detained in May 2011 and under Iranian law (Article 58 of the Islamic Penal Code) is eligible for conditional release after serving more than a third of his prison sentence. 
On 5 May - the fifth anniversary of Mr Foroughi's original arrest - Amnesty campaigners are delivering a 21,000-signature
petition
to the Iranian Embassy in London (16 Princes Gate, London SW7 1PT) on the businessman's case. Mr Foroughi's son Kamran, who has led a high-profile campaign for justice for his father, will be among those taking the petition to the embassy.  
His family and campaigners have long highlighted serious medical concerns in Foroughi's case. Prior to his arrest in 2011, Foroughi was warned he was at increased risk of developing cancer and was advised by doctors to have regular specialised medical tests. However, in detention he was denied medical tests until last November, and even then the results of long-delayed tests still haven't been shared with either him or his family.
Kamal Foroughi's son Kamran said:
"My family thanks everyone who took the time to sign and share the petition - we really appreciate your support.  

 

"Dad's detention in Evin Prison has been unbelievable. We don't understand why he hasn't been released, nor why he was arrested in the first place. 

 

"While we were very pleased when dad received his one and only medical on 17 November 2015, it's staggering that still he and we have not been provided with the results.  We are very worried about his health and these worries are shared by dad's London doctor, Amnesty International and United Nations human rights experts."
Amnesty International UK's Individuals At Risk Campaigner Kathy Voss said:
"It's been five long years since Kamal Foroughi was first taken into detention and his release is long overdue under Iran's own early-release laws.

 

"This petition is a wake-up call to the Iranian authorities - they should set this man free, while ensuring he's given any medical treatment he may need.

 

"The UK Government needs to keep up pressure on the Iranian authorities. The much-heralded 'thaw' in Anglo-Iranian relations doesn't seem to be getting results in Mr Foroughi's case - we need to see that change as soon as possible."
Years without lawyers or consular assistance
Kamal Foroughi was arrested by plain-clothed security officials on 5 May 2011. He wasn't told the reason for his arrest or shown an arrest warrant. Foroughi was held - mostly in solitary confinement - without access to a lawyer until the day before a court hearing nearly two years later (in early 2013). 
Foroughi is still allowed only very limited access to a lawyer and has never been granted British consular assistance despite being a joint UK-Iranian national. Foroughi has also been prevented for extended periods from communicating with anyone outside prison, and even now is forbidden from writing or receiving letters from people outside Iran - including his wife, two children and grandchildren, who all live in the UK. Since August 2014 he's been permitted to make telephone calls to family members outside Iran, though he's required to conduct them in Persian, which his children and grandchildren in the UK do not speak well making it difficult for them to communicate with him.