Cambodia: Prime Minister's threats to female Facebook users 'despicable and dangerous'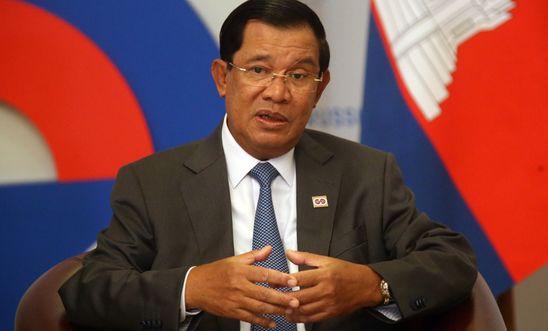 Cambodian Prime Minister Hun Sen
Cambodian Prime Minister Hun Sen's comments that women wearing revealing clothing on Facebook are responsible for sexual violence are "despicable and dangerous", Amnesty International said today.
During a speech to the Cambodian National Council for Women on Monday, Hun Sen ordered the authorities to take immediate action against women who allegedly wear "revealing" clothing in Facebook Live streams.
Hun Sen said that the women are eroding Cambodian cultural values, and that their behaviour is to blame for sexual violence. He also ordered government authorities to find the women and "educate" them, suggesting they will track them down based on their online activity.
Earlier today, police in Phnom Penh posted a video to Facebook stating that a woman named Thai Sreyneang had been "brought" to Phnom Penh's Tuol Kork police station for "education", where she signed an agreement to stop wearing "revealing" clothing on Facebook.
In the video, Thai Sreyneang can be seen apologising for wearing clothing "which disgraces Khmer traditions" and "affects the honour of Cambodian women".
Nicholas Bequelin, Amnesty International's South East Asia Regional Director, said:
"Hun Sen's assertion that women are to blame for sexual violence and human trafficking due to their choice of dress on Facebook is a despicable and dangerous instance of victim-blaming. This rhetoric only serves to perpetuate violence against women and stigmatise survivors of gender-based violence.

"The coerced moral 'education' of women by police is inherently arbitrary. None of these women have been accused of breaking any law, and the police appear to be acting solely on the basis of Hun Sen's personal whim.

"The Prime Minister's order to track down and 'educate' women represents a menacing application of the state's surveillance apparatus to advance a discriminatory and patriarchal agenda. Facebook must refuse to cooperate with any discriminatory requests by the Cambodian authorities to block women's profiles.

"These developments underscore the dire state of freedom of expression in Cambodia. In recent years, the Cambodian authorities have increasingly weaponised internet surveillance to target human rights defenders and opposition supporters based on their Facebook posts and communications."