Britain's talented youth will be celebrated at Amnesty Awards - Weds 29 April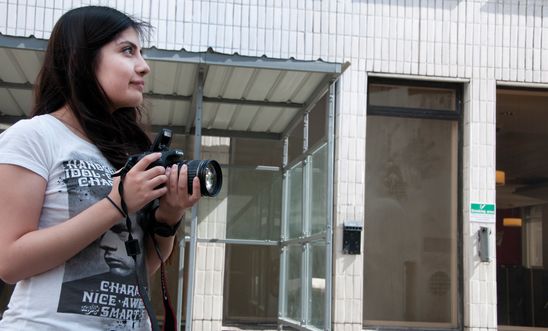 Winner of Photographer category, Amnesty Youth Awards 2013 © Jenny Matthews
"In a week where we've seen such heart-breaking tragedy as a result of grotesque rights abuses, ceremonies like Amnesty's Youth Awards are vital." Kerry Moscogiuri
Journalists invited to attend ceremony
On Wednesday 29 April between 2 and 4pm, Amnesty International UK will honour some of the most talented young people in Britain at its headquarters in Shoreditch, east London with the prestigious Amnesty Youth Awards ceremony.
Pupils aged from seven to 19 years old who have creatively interpreted a human rights topic through reporting, photography, song-writing and performing, fundraising and campaigning will be celebrated through receiving Awards and performing their work. 
The nationwide competition was popular, with more than 5,500 young people across the UK – from Cardiff to Selby and from Brighton to Dumfries – entering this year's Awards. 
Speaking of the Awards, Amnesty UK's Campaigns Director Kerry Moscogiuri said:
"Amnesty's Youth Awards ceremony is definitely a peak moment in our calendar that truly showcases Britain's young talent.  In a week where we've seen such heart-breaking tragedy as a result of grotesque rights abuses, ceremonies like Amnesty's Youth Awards are vital. 

"These Awards throw a spotlight on the undeterred commitment, talent and creativity of so many of Britain's talented youth who are determined to put a stop to rights abuses.  It's an afternoon which leaves us all feeling inspired and hopeful." 
Seventeen awards will be made to winners at the ceremony which is hosted by BBC Radio 1Xtra's Nick Bright.
Event details
Where: Amnesty International UK Shoreditch, 17 – 25 New Inn Yard, London EC2A 3EA 
When: 2 – 4pm
What:  Amnesty International Youth Awards  
a prestigious ceremony celebrating talent of school children aged from 7 to 19 in their skills of photography, reporting, fundraising, campaigning and song-writing. 
Many of the finalists will perform at the event.  
Nick Bright, school pupils and Amnesty spokespeople are available for interview. 
Journalists are invited to attend ceremony
The Amnesty International Youth Awards competition is this year run in partnership with TES and supported by SOAS, Getty Images, Press Association and players of People's Postcode Lottery.