Brexit: 'Henry VIII eats Parliament' stunt to highlight concern over loss of rights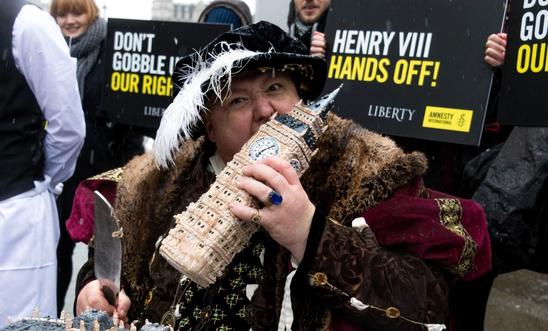 Royal impersonator Michael Farley munches into Big Ben to symbolise concerns over the Government using 'Henry VIII powers' in the Brexit process © Jon Cornejo
Amnesty International and Liberty are staging a 'Henry VIII eats Parliament' stunt in Westminster on Monday (11 December, 1pm) to highlight human rights campaigners' concerns with how the Government is treating people's rights in the EU Withdrawal Bill.
The stunt will see a fully-costumed Henry VIII impersonator being served and partially consuming a giant Houses of Parliament cake.
The cake, made by a specialist firm of London bakers, will be served to the famously big-appetited king on a silver platter by waiters immediately opposite the actual Houses of Parliament in Westminster.
After the formally-attired waiters have, with the appropriate ceremony, served the outsized cake, Henry VIII will carve it up – Big Ben tower and all – with large silver cutlery while drinking from a 16th-century-style goblet.
The stunt comes ahead of major debates in Parliament on Tuesday and Wednesday over the wide-ranging law-making powers that would be handed to ministers under the EU Withdrawal Bill. Cross-party MPs are rallying behind amendments that would introduce greater parliamentary scrutiny of the 'great copy and paste' of EU law into UK law, and prevent the Government from using their powers to roll back people's rights and freedoms.
Amnesty and Liberty have warned that, in its current form, the EU Withdrawal Bill allows ministers to take away essential existing human rights and equality protections stemming from EU membership without fully consulting Parliament.
Campaigners say the Bill's so-called "Henry VIII powers" would effectively hand Parliament to ministers on a silver platter, allowing them to gobble up our rights. Liberty and Amnesty are calling on MPs to back amendments to include a binding commitment on the Government, preventing it from using its delegated powers to erode rights.
Campaigners at the scene of Monday's symbolic parliamentary carve-up will carry placards with the message "Henry VIII. Hands off!" and "Don't gobble up our rights".
Kate Allen, Amnesty International UK's Director, said:
"Ministers want to have their cake and eat it on Brexit and human rights.

"Ministers claim that Brexit is being properly debated, while giving themselves 'Henry VIII powers' that could see some of our human rights gobbled up. This Bill must be amended with a clear block on the powers being used for that purpose.

"People voted to withdraw from the European Union, not to have our own Government withdraw human rights protections from the people of this country."
Martha Spurrier, Director of Liberty, said:
"As 2017 draws to a close, we're at very real risk of hurtling back to Tudor Britain.

"The Withdrawal Bill gives the Government sweeping powers named after Henry VIII – who's hardly remembered for his rational decision-making. It would hand Parliament to ministers on a silver platter and let them carve up and devour our rights.

"MPs who believe in democracy and standing up for their constituents' rights must vote to stop this power grab. We can't stomach losing our rights when we leave the EU."