Brazil: Authorities must bring those responsible for Marielle Franco's death to justice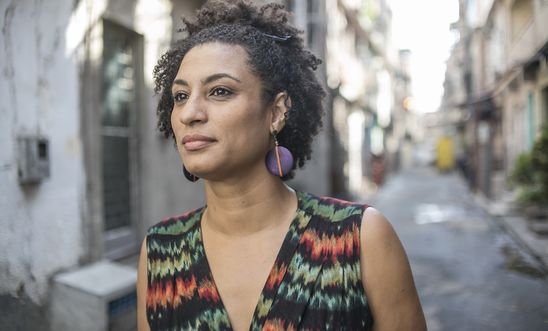 Human rights defender and Rio de Janiero city councillor, Marielle Franco © Mídia Ninja
Human rights activist Marielle Franco was shot dead last month in 'planned' assassination
"Every day that this case remains unsolved the level of risk and uncertainty surrounding human rights defenders grows worse" - Jurema Werneck
One month on from the assassination of human rights defender and Rio de Janeiro councillor Marielle Franco, Amnesty International is calling on authorities to swiftly investigate the murder and bring those responsible to justice.
Jurema Werneck, executive director at Amnesty International Brazil, said:
"Society needs to know who killed Marielle and why. Every day that this case remains unsolved the level of risk and uncertainty surrounding human rights defenders grows worse.
"If the state fails to bring the culprits to justice, it sends a message that human rights defenders can be killed with impunity. The authorities must make clear that this is not the case and move swiftly to investigate those who killed Marielle and those who ordered her death.
"The killing of a black, lesbian, human rights defender who stood up for the most marginalised sectors of society is clearly intended to silence her voice and generate fear and insecurity. But we will continue to raise our voices.
"People in Brazil and all over other world have mobilised since Marielle was killed, and will not rest until the truth is known and justice is done. They tried to silence us but we've shown that we're not afraid."
Planned assassination
Elected to the Rio de Janeiro city council in 2016, Marielle was known for defending LGBT rights and denouncing police abuses and extrajudicial executions, particularly in the favelas. Days before her killing, she was appointed rapporteur of the commission to monitor the intervention of the armed forces in public security tasks in Rio.
Marielle and her driver, Anderson Gomes, were shot dead while driving through Rio's Estacio neighborhood after participating in a public debate on 14 March. At least 13 shots were fired, four of them hitting Marielle in the head. The nature of the shooting and the reported involvement of assailants in two vehicles indicate that it was a carefully planned assassination carried out by trained personnel.
Amnesty calls on the Brazilian authorities to conduct a prompt, thorough, impartial and independent investigation that not only identifies the shooters, but also those who ordered the killing. Failure to identify all those responsible would put dozens of human rights defenders at risk.
Brazil is one of the world's deadliest countries for human rights defenders, with at least 58 killings in 2017.