Boris Johnson speech: Foreign Secretary needs to 'raise his game' on Britons jailed in Iran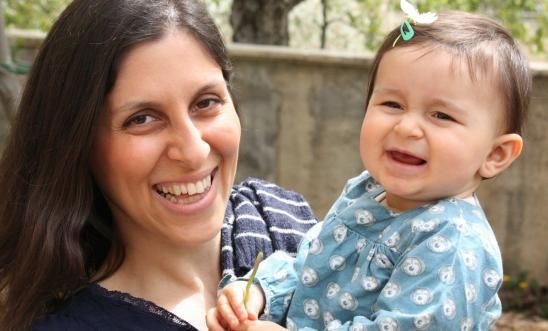 Nazanin with her daughter Gabriella, whose passport has been confiscated
'Boris Johnson should ensure that the issue of jailed UK dual-nationals is front and centre of all diplomatic dealings between London and Tehran' - Kate Allen
Ahead of Boris Johnson's foreign policy speech at the Conservative Party conference on Sunday, the husband of a British woman in jail in Iran has appealed to the Foreign Secretary to "raise his game" over the UK's efforts to secure her release.
Richard Ratcliffe, whose wife Nazanin was reportedly sentenced to five years in prison on unspecified "national security-related charges" earlier this month, made the call ahead of the six-month point since his wife's arrest during a family holiday to Iran. 
On 3 April, Ms Zaghari-Ratcliffe, a 37-year-old UK-Iranian dual-national, was detained at Tehran airport by security officials believed to be members of Iran's Revolutionary Guards as she was about to board a return flight to London with her 22-month-old daughter Gabriella. Zaghari-Ratcliffe was separated from her daughter - whose passport was confiscated before she was placed in the care of her Iranian grandparents - and held in solitary confinement for several weeks, denied access to a lawyer and allowed only limited contact with her family. 
On 9 September, Mr Ratcliffe told various media outlets that his wife had told him during a phone call that day that she had apparently been given a five-year prison sentence on unspecified "national security charges" after a short trial.
Amnesty International has called for Ms Zaghari-Ratcliffe to be immediately and unconditionally released and her conviction and sentence quashed if she has been imprisoned solely for exercising her rights to freedom of expression and association. Amnesty is
urging
Boris Johnson to make a public statement echoing this call.
Mr Ratcliffe has recently expressed his concern that the UK Government is not acting with sufficient urgency over his wife's plight or indeed for other UK-Iranian dual-nationals. Amnesty has also been campaigning for the release of Kamal Foroughi, a 77-year-old UK-Iranian dual-national who has spent over five years in jail in Iran on espionage charges and is overdue for release under Iran's own early-release rules. Theresa May reportedly raised Ms Zaghari Ratcliffe's case with the Iranian president Hassan Rouhani at a meeting at the United Nations in New York last week, though little information has been forthcoming about the details of the meeting.
Richard Ratcliffe said:
"Boris Johnson needs to raise his game on my wife's case. He needs to say that the allegations against her have no basis. He needs to say clearly and simply that detaining a British mother and toddler in this way is wrong. Holding Nazanin on secret charges as though she is a criminal, denying Gabriella a chance to be with either of her parents for a quarter of her life - is simply wrong.

 

"If a British passport is to mean something, particularly if Government policy is to encourage new trade and trips to Iran, then the Government needs to stand up for its citizens' fundamental rights, and speak out when they are wronged. And if other countries can manage it - he needs to find a way to bring them home."
Amnesty International UK Director Kate Allen said:
"It's a step in the right direction that Theresa May has reportedly raised Nazanin's plight directly with the Iranian president, but the whole situation desperately needs a major change of gear. 

 

"Earlier this week a detained Canadian-Iranian dual-national was released and allowed to fly back to Canada, apparently after the Canadian authorities intervened on her behalf. High-level international pressure does work.

 

"Boris Johnson should ensure that the issue of jailed UK dual-nationals is front and centre of all diplomatic dealings between London and Tehran."
Dr Homa Hoodfar, 65, an anthropology professor at Concordia University in Montreal, was released on "humanitarian grounds" on Monday after nearly four months in detention. She was reportedly being held for alleged "acts against national security", with her family saying she'd been accused of "dabbling in feminism and security matters".
Meanwhile, UK-Iranian dual-national Kamal Foroughi, an oil and gas industry consultant, has already served more than five years of an eight-year jail sentence after being convicted of espionage and possessing alcohol in 2011. His son Kamran has, like Richard Ratcliffe, been calling on the UK Government to step up efforts to secure the release of his relative. 
For more on Iran and human rights, go
here
.