Birthday party demo for freed Azerbaijani journalist Khadija Ismayilova outside London Embassy tomorrow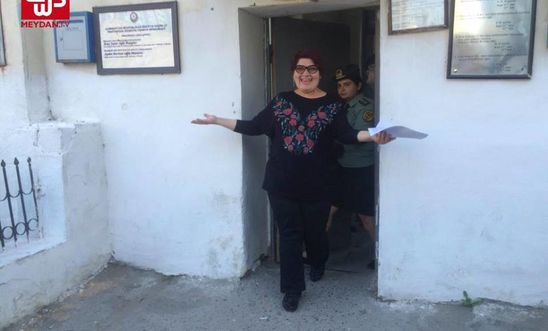 Khadija Ismayilova leaving jail yesterday (25 May) © Meydan TV
Investigative journalist Khadija Ismayilova released on probation on Wednesday after a year and a half in jail on trumped-up charges, two days before 40th birthday (Friday 27 May)
Party with a giant cake and card, 30 guests and placards reading "Happy Birthday Khadija", outside Azerbaijan Embassy in London on Friday, calling for her conviction to be quashed and all other prisoners of conscience to be freed
Release comes ahead of European Grand Prix in Azerbaijan's capital, Baku, in June
Ismayilova has been represented by barrister Amal Clooney since last year
A group of international human rights organisations will hold a celebration demo in London on Friday to mark the 40th birthday of Azerbaijani journalist Khadija Ismayilova, released from jail on Wednesday, and to call for her conviction to be quashed. Ismayilova was arrested on trumped-up charges in December 2014 and spent nearly a year and a half in jail.
Amnesty International, Article 19, Index on Censorship and others will be outside the Azerbaijani Embassy in Kensington, west London, from 10am-11am on Friday (27 May), with a table laid for a birthday party, a giant cake, and at least 30 guests wearing party hats and holding placards reading "Happy Birthday Khadija". A huge card measuring 60cm by 30cm, and calling for the release of all other prisoners of conscience in Azerbaijan, will be delivered to the Embassy by hand. The event is part of a series of 40 parallel celebration demos across the world, coordinated by the Sport for Rights campaign.
Ismayilova was released on Wednesday after nearly 18 months in jail. She was arrested and detained on politically-motivated charges of embezzlement, illegal entrepreneurship, tax evasion and abuse of office in December 2014, and given a seven-and-a-half-year sentence after her trial last September. However, the real reason for her arrest and imprisonment, according to Amnesty, was her investigative reporting to expose corruption among Azerbaijan's ruling elite.
Ismayilova's release comes after international pressure on the country to free its prisoners of conscience. As part of an ongoing crackdown on freedom of expression, there are other journalists and activists in jail simply for criticising the authorities, and NGOs have been shut down for their alleged "criminal activity".
Azerbaijan is well known for using high-profile sports events to attempt to improve its international image, the latest of which will be the European Grand Prix to be held in the capital Baku from 17-19 June. Last summer the city hosted the inaugural European Games after an unprecedented crackdown on government critics by the authorities, and it will also host four games in the 2020 European Football Championships.
What: Celebration demo to mark Khadija Ismayilova's release and 40th birthday, and calling on Azerbaijan to quash her conviction and free remaining prisoners of conscience.
When:  Friday, 27 May from 10:00 am to 11:00 am
Where:  Azerbaijani Embassy, 4 Kensington Court, London, W8 5DL
Who:  The London demo is co-sponsored by Amnesty International UK, ARTICLE 19, English PEN, Freedom Now, Global Witness, Index on Censorship, PEN International, Platform, and the Sport for Rights campaign. Sport for Rights is a coalition of international organisations drawing attention to the human rights crackdown taking place in Azerbaijan.