Belfast: Statue of Liberty protest outside U.S Consulate to mark Trump's 100 days in office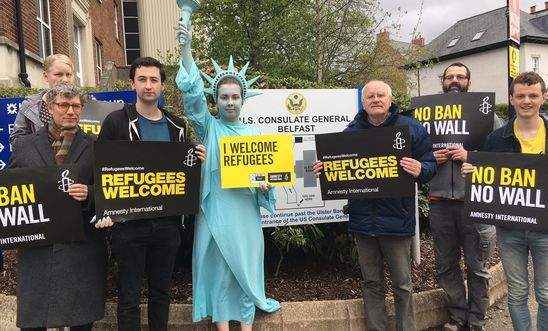 The 'Statue of Liberty' protested outside the US Consulate General in Belfast today (Thursday 27 April) to mark US President Donald Trump's first 100 days in office (29 April).
The statue protest - Amnesty International activist Jenny Pollock dressed as the famous New York landmark in pale-green costume, face-paint and carrying torch - was drawing attention to a host of human rights concerns during President Trump's first three months in office.
Amnesty has been strongly critical of several measures from the new US government - including the multi-country travel ban affecting Muslim majority countries ("discriminatory and unlawful"), the 120-day halt to its refugee resettlement programme ("malicious and divisive"), and plans for a wall on the Mexican border ("a dangerous move").
Amnesty campaigners accompanying the 'statue' outside the US Consulate General on the Stranmillis Road, Belfast on 27 April held placards bearing the message "No ban, no wall" and "Refugees Welcome".
Patrick Corrigan, Amnesty's Northern Ireland programme director, will hand deliver a letter addressed to the US Consul General Daniel Lawton and dossier outlining 100 ways in which President Trump has threatened human rights in his first 100 days in office.
Patrick Corrigan said:
"In the space of just 100 days, time and time again President Trump has threatened and undermined human rights in the United States and around the world.
"The Statue of Liberty stands for American values of freedom and an age-old willingness to shelter people uprooted through war and persecution.
"We continue to stand for those values, even while President Trump has shown that he cares little for what this great symbol of America represents." 
Amnesty supporters are currently contacting the White House demanding that the "executive order" authorising the travel ban and refugee programme suspension be rescinded. See: www.amnesty.org.uk/actions/its-back-fight-trumps-muslim-ban