Belfast rally to follow Donald Trump's inauguration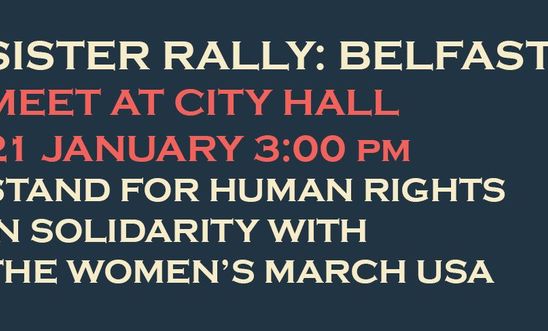 "The politics of fear should have no place in 2017" 
A rally will be held in Belfast on Saturday 21 January, as part of a wave of international action timed to take place on the first day of Donald Trump's US Presidency.
The rally at Belfast City Hall will take place on Saturday afternoon at 3pm, along with others around the world, in solidarity with the Women's March on Washington DC.
Millions of people are expected to march in every major city across North America, with the largest in Washington DC, where 500,000 are expected. At time of writing, women's marches are being planned in over 600 cities around the world.
The Belfast rally, spearheaded by local American expat woman Jennie Carlsten, has been triggered by widespread apprehension at the threat to human rights anticipated in the wake of recent political events. She is inviting anyone with an interest in defending those rights, to take part and show their opposition.
Amnesty International is supporting the event. Representatives of the Belfast Feminist Network, Black Lives Matter NI, Housing4All NI, and Friends of the Earth will also speak at the event.
Explaining the background, Belfast rally organiser Jennie Carlsten said:
"Millions will gather on Saturday in Washington, D.C. and in hundreds of cities around the world. Here in Belfast, we will stand together in solidarity with those women, and with partners, families and friends of all genders, to remind the US administration and our local leaders, that the majority of us stand for and will defend human rights.
"Belfast is closely connected to the US in so many ways, by family, friends and work relationships. What happens there affects us all. An attack on the rights of one is an attack on the rights of all.
"This is a peaceful rally to show that we will not accept intolerance or injustice in Belfast or anywhere else.
"Although this event has been organised by women, this is an inclusive event. All genders and all people are welcome."
Patrick Corrigan of Amnesty International, which is supporting the Belfast rally and other events around the world, said:
"The politics of fear should have no place in 2017. On Saturday, Belfast will be part of a global community of resistance to attempts to roll back hard-won human rights.
"Amnesty International is proud to support this rally and to stand together with our neighbours for human rights and against hate. In this critical and uncertain time, it is vital to stand together against sexism, racism and homophobia and any other form of discrimination."
More info: event page on Facebook.