Beijing 2022: British Olympic Association must not repeat Australian Open t-shirt ban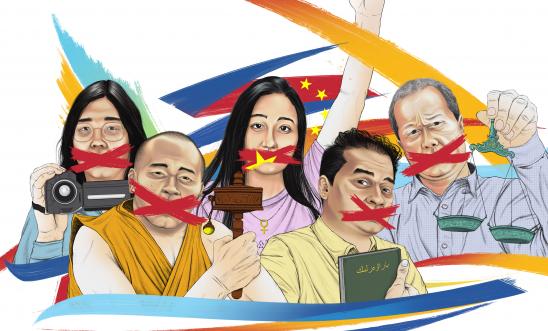 On February 4th, the Olympics in China take place. But at the same time, activists who are only using their voice are being jailed and detained. © Amnesty International / Adrien Stanziani
Letter to Andy Anson, CEO of the sporting body, says Team GB athletes should be informed of human rights situation and free to speak out
U-turn by Melbourne tennis organisers came after widespread criticism of ban on 'Where is Peng Shuai?' t-shirts
'These games should not become a rights-free zone' - Sacha Deshmukh
The British Olympics Association must avoid placing restrictions on the right of Team GB athletes to speak out about human rights in China, said Amnesty, as it warned that next week's games were taking place under a shadow of "horrific" human rights abuses.
In a letter to Andy Anson, Chief Executive of the British Olympic Association, Amnesty UK's CEO Sacha Deshmukh has called on the BOA to ensure that Team GB athletes are able to fully exercise their rights to free expression while in China.
The letter warns against an Australian Open-style ban on campaign messages, after organisers in Melbourne initially banned spectators at the event from wearing t-shirts or displaying banners with the message "Where is Peng Shuai?"- a reference to the Chinese tennis player who is thought to be at risk of persecution by the authorities in China.
In November, three-time Olympian Peng Shuai disappeared from public view after having made sexual assault allegations against a former Chinese vice premier in a social media post that was quickly censored in China. A number of international tennis players have since raised concerns for her safety.
In his letter to the BOA, Deshmukh emphasises that under the relevant business and human rights principles the sporting body is obliged to undertake due diligence in relation to the human rights situation in China, including informing athletes about the situation and their rights.
In its most recent briefing on the human rights situation in China - which has been included in Deshmukh's letter to Andy Anson - Amnesty notes that the Winter Olympics are taking place at a time of global alarm over the intensifying suppression of human rights in China, with the mass persecution of Uyghurs and other mainly Muslim minorities in Xinjiang, a draconian clampdown on freedom of speech in Hong Kong, and the apparent silencing of outspoken individuals like Peng Shuai.
Sacha Deshmukh, Amnesty International UK's CEO, said:
"The British Olympic Association mustn't repeat the Australian Open's disastrous t-shirt ban and should instead support Team GB athletes wanting to speak about human rights in China.

"From the industrial-scale detention and torture of Uyghur people in Xinjiang, to the jailing of protesters in Hong Kong - these games are taking place in the shadow of China's horrific human rights abuses.

"If the British Olympic Association resorts to muzzling athletes it will be complicit in China's sportswashing attempts and complicit in its massive programme of systematic human rights abuse.

"These games should not become a rights-free zone - freedom of speech and the right to openly debate and discuss human rights should be an integral part of these games."