Bangladesh: Photographer Shahidul Alam denied bail in 'cruel affront to justice'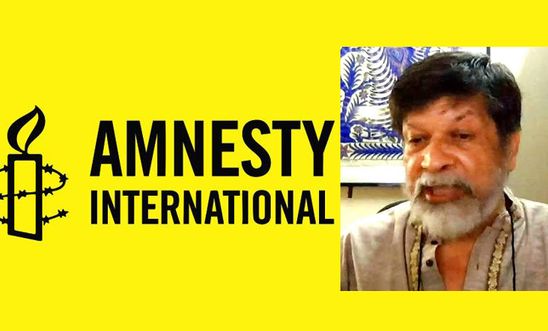 Shahidul Alam has been declared an Amnesty International prisoner of conscience
'There has been a widespread outcry against the appalling treatment of this much-loved photographer' - Saad Hammadi
Responding to news that celebrated Bangladeshi photographer Shahidul Alam has been denied bail this morning, Saad Hammadi, Amnesty's South Asia Campaigner, said:
 "The decision to deny Shahidul Alam bail is a cruel affront to justice.

"He should never have been detained in the first place, since all he did was peacefully exercise his right to freedom of expression. Now, he is being subjected to prolonged detention for no justifiable reason whatsoever.

 "Beyond the injustice to Shahidul Alam himself, the case risks tarnishing Bangladesh's reputation globally. There has been a widespread outcry against the appalling treatment of this much-loved photographer. He must be released immediately and unconditionally."
Arrest, detention and torture
Shahidul Alam was arrested by the Bangladeshi authorities on 5 August and has since been charged under the draconian Section 57 of Bangladesh's Information Technology Act for comments he made in an Al-Jazeera English interview about student protests for road safety and the authorities' use of excessive force. If convicted, Shahidul Alam would face a minimum sentence of seven years.
Human rights groups, media freedom organisations, photographers, Nobel Peace Prize winners, actors, writers and academics have all called for his release.
Shahidul Alam has said that he was tortured during his detention and was made to wear the clothes he was arrested in, blooded during the torture but then washed to remove the stains when he was produced in court on 6 August.
No investigation has been ordered or initiated against the police officials into his claim, and on 12 August a magistrate court ordered Shahidul Alam to be sent to jail at the request of the police investigation officer.