Baku Grand Prix: F1 should call on Azerbaijani authorities to end human rights crackdown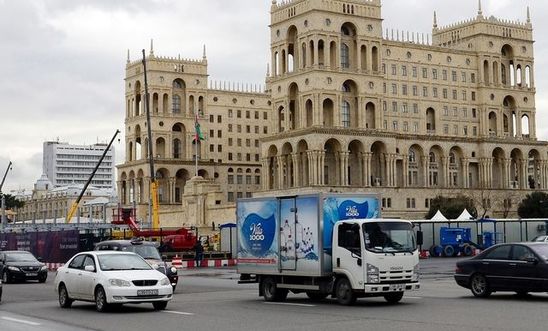 Cars drive past the construction site of the Baku City Circuit pits in central Baku, 31 March 2016 © Tofik Babayev/AFP/Getty Images
Formula One should use its influence and publicly call on the Azerbaijani authorities to end their crackdown on human rights, Amnesty International said ahead of the Grand Prix in Baku this weekend.
The race - which will see drivers speeding through the city centre, past the House of Government and along the seaside promenade in an attempt to "showcase the best of Baku" - will be taking place against a backdrop of repression of government critics, including journalists, lawyers, opposition politicians and youth activists, who have been arrested and jailed on trumped-up charges. Some of their cases are described in a new Amnesty briefing published today, which details the ongoing clampdown on freedom of expression in the country.
Faced with falling oil revenues and rising international pressure, since the beginning of the year the Azerbaijani authorities have released several dozen prisoners under presidential pardon. Among those released were eight prisoners of conscience, including award-winning investigative journalist Khadija Ismayilova.
However, while widely welcomed internationally, these pardons have neither addressed any of the longstanding human rights concerns in Azerbaijan, nor put an end to the practice of arrests of government critics on fabricated charges. Furthermore, some of the recently released prisoners, including civic leaders and staff members of NGOs, are at high risk of re-arrest. Those released on parole are also blocked from resuming their work.
The Grand Prix is yet another in a series of major international sports events in Azerbaijan – Baku hosted the inaugural European Games in June last year, ahead of which Amnesty documented an unprecedented escalation in repression, and in 2020 the city will hold four games in the European Football Championships. The authorities have made two attempts to bid for the Olympic Games, and have a stated intention of using sport to promote the country.
Kerry Moscogiuri, Director of Campaigns at Amnesty International UK, said:
"The arrival of Formula One in Baku must not steer attention away from the Azerbaijani authorities' human rights crackdown. Behind the glitz, the authorities are locking up their critics, have shut down NGOs and arrested or harassed their leaders. The recent release of some of those jailed on trumped-up charges should not fool anyone into thinking that the wind in Baku is blowing in a different direction.

"Azerbaijan has courted big international sports events to improve its image abroad, and the Grand Prix is no different. While the world's fastest drivers take to the streets of Baku in this spectacle of speed, there are many who won't be able to enjoy the show. F1 is in pole position to influence positive change in Azerbaijan. We would like to see them publicly urge President Aliyev to end this crackdown and free all prisoners of conscience."
The Azerbaijani government banned Amnesty and other human rights monitors and some journalists from entering the country ahead of the European Games and Amnesty was refused entry again in October last year, in the run up to the country's parliamentary elections.
The long road ahead
Amnesty International has documented 14 prisoners of conscience in Azerbaijan right now and there are thought to be many more. Research published today reveals a spate of new arrests on fabricated charges of government critics and the relatives of those still speaking out from abroad.
On 10 May, youth activists Bayram Mammadov and Giyas Ibrahimov were detained on spurious drugs-related charges the day after posting a photo showing the statue of former president Heydar Aliyev on which they had painted a political protest message. They told their lawyer that the drugs had been planted on them by police. If convicted, they face up to 12 years in prison.
Meanwhile, Intigam Aliyev ran an NGO defending victims of persecution and representing them at the European Court of Human Rights until he was arrested in August 2014. He was eventually sentenced to seven-and-a-half years in prison on bogus charges of tax avoidance, illegal entrepreneurship and abuse of power. Intigam was released on 28 March this year, but has not been cleared of charges which means he cannot practice as a lawyer and cannot travel abroad without special permission. His bank accounts are frozen and his NGO remains closed.