Bahrain: Today's six-month jail sentence for leading activist Nabeel Rajab should be quashed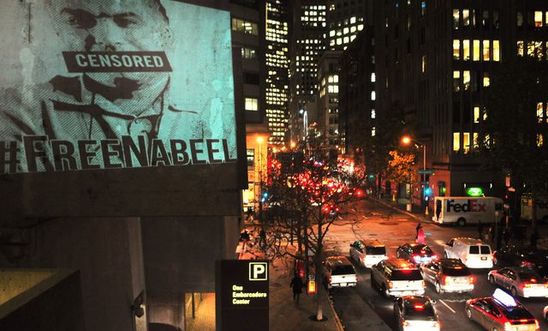 The image of Bahraini human rights activist Nabeel Rajab is projected by Amnesty USA activists above a busy intersection in San © Amnesty International (photo: Tina Xu)
'Nabeel Rajab is being unjustly punished simply for posting tweets deemed insulting to the authorities - Said Boumedouha
The Bahraini authorities must quash the conviction of prominent human rights activist Nabeel Rajab who has today been sentenced to six months in prison for posting comments online which were considered insulting to the country's ministries of interior and defence, said Amnesty International.
Mr Rajab had been arrested after he tweeted about reports that members of Bahrain's security forces had joined the Islamic State armed group in Iraq. One tweet read: "Many #Bahrain men who joined #terrorism & #ISIS came from security institutions and those institutions were the first ideological incubator."
Ahead of today's verdict Nabeel Rajab had told Amnesty:
"The unjust and relentless targeting of myself by the authorities provides just one example of what many other human rights defenders from across the Gulf region are subjected to. We are not only the victims of the repression of our own governments but also the victims of the silence, hypocrisy and double standards of the international community. Our people, who are hungry for freedom and social justice, are being forced to pay the price."
Amnesty has repeatedly called on the Bahraini authorities to repeal laws that prohibit insults or the disrespect of heads of state, public figures, the military, government institutions, flags or symbols, as they are contrary to international law and standards.
Amnesty International Middle East and North Africa Deputy Director Said Boumedouha said:
"Nabeel Rajab is being unjustly punished simply for posting tweets deemed insulting to the authorities.
"His conviction is a blow to freedom of expression - it must be quashed. He should be released immediately and unconditionally.
"Instead of persecuting activists who dare to speak out freely, the Bahraini authorities should repeal these repressive laws and uphold the right to freedom of expression."
Sheikh 'Ali Salman of Al-Wefaq
Yesterday Bahrain's Public Prosecution referred Sheikh 'Ali Salman, leader of the country's main opposition group Al-Wefaq for trial on charges of "promoting the overthrow and change of the political system by force and threat," "inciting non-compliance with the law" and "publicly inciting hatred against a segment of the population". His trial is scheduled for 28 January. Sheikh 'Ali Salman was arrested over statements made in speeches in 2012 and 2014, including most recently at the party's General Assembly meeting on 26 December. Amnesty considers him a prisoner of conscience and calls for his immediate and unconditional release.