Bahrain: three relatives of UK-based human rights activist jailed on 'trumped-up' charges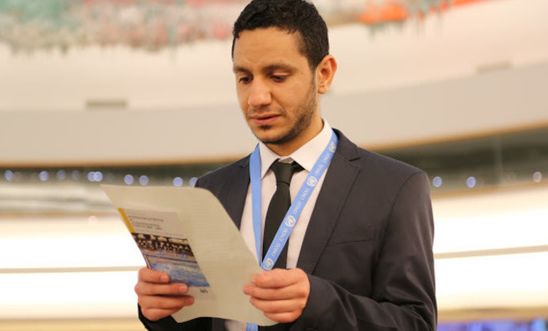 As an exile in the UK, Sayed Alwadaei has been an outspoken critic of Bahrain © Moosa Satrawi
'This is a clear attempt to muzzle Sayed Alwadaei from afar' - Samah Hadid 
Three relatives of an outspoken critic of the Bahraini government, Sayed Ahmed Alwadaei, who lives in exile in the UK, were each sentenced today to three years in prison in a chilling illustration of the extremes to which the Bahraini authorities are prepared to go to crush dissent, said Amnesty International.
Sayed Alwadaei's brother-in-law, Sayed Nizar Alwadaei, his mother-in-law, Hajer Mansoor Hassan, and a cousin, Mahmood Marzooq Mansoor, were convicted on charges of planting fake bombs in an area southwest of Manama after a grossly unfair trial in which they say they were tortured to "confess".
Last month, Amnesty reported on the Bahraini authorities' track record of harassing, threatening and detaining family members of Bahraini activists living abroad as a means of intimidating them into silence. Sayed Alwadaei is Director of Advocacy at the Bahrain Institute for Rights and Democracy. Amnesty had repeatedly called on the Bahraini authorities to stop the harassment and targeting of his family. 
Last October, hours after Sayed Alwadaei took part in a peaceful protest outside Downing Street during a visit by Bahrain's King Hamad bin Isa al Khalifa to the UK, his wife and young child were arrested. His wife was questioned and threatened with criminal charges - her interrogators made specific reference to his participation in the protest. 
Samah Hadid, Amnesty International's Middle East Campaigns Director, said:
"Today's sentencing of three of Sayed Alwadaei's family members on trumped-up charges and after a grossly unfair trial is a blatant scheme by the authorities to punish the prominent Bahraini activist and pressure him to stop his peaceful criticism of the government.

"This is a clear attempt to muzzle Sayed Alwadaei from afar. 

"It sends a chilling signal that no one is out of the Bahraini authorities' reach and demonstrates that they are prepared to use whatever means necessary to crush dissent.  

"This sentence should also be a wake-up call for the UK government, which has continued to downplay the deteriorating human situation in Bahrain: it can no longer stay silent over the abuses being committed in the country."