Bahrain: prominent human rights activist at risk of sexual assault after late-night arrest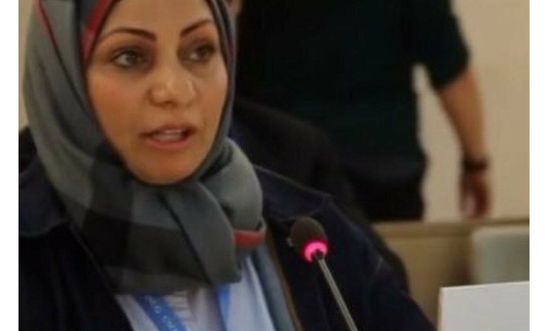 Ebtisam al-Saegh was seen in custody during the middle of the night © Private
Ebtisam al-Saegh taken away from her home by 25 masked officers shortly before midnight 
Shortly before her arrest she'd been tweeting about by security agents' ill-treatment of women 
Amnesty International is warning that a prominent Bahraini human rights activist is at risk of torture, including sexual assault, after being detained late last night.
Ebtisam al-Saegh was arrested at 11.45pm after her house was raided by masked officers in civilian clothing carrying body and head cameras. Around 25 officers claiming to belong to Bahrain's Criminal Investigation Directorate arrived at her house in five civilian cars and a mini bus.
Three armed men stayed outside the house while seven officers, including two female officers dressed in Abaya and Niqab, entered the home. No warrant was presented for Ms Al-Saegh's arrest and when she asked why she was being arrested, she was only told: "you don't need to talk, you will know as soon as you reach there". Meanwhile, those arresting Al-Saegh confiscated her mobile phones and her national ID card.
Amnesty has received information that Al-Saegh was subsequently seen at the Issa Town detention centre for women, on the outskirts of the capital Manama, during the early hours of today, but was later transferred to an undisclosed place.
Shortly before her arrest on Monday, Al-Saegh had been tweeting about the ill-treatment of women at the hands of Bahrain's National Security Agency, saying she held the King of Bahrain, Hamad bin Isa al Khalifa, responsible for this. In May, Al-Saegh was herself reportedly subjected to a seven-hour ordeal at the hands of National Security Agency officers, who allegedly sexually assaulted her, beaten her all over her body, kicked in the stomach and kept her standing for most of the seven-hour period during which she was interrogated. 
Samah Hadid, Amnesty International's Middle East Campaigns Director, said:
"We are deeply concerned about Ebtisam's wellbeing. 

"The Bahraini authorities must immediately and unconditionally release Ebtisam al-Saegh whose only crime is speaking up against a government committed to crushing all forms of dissent.

"When she was arrested in May, she was beaten and sexually assaulted by members of the Bahraini National Security Agency. The Bahraini authorities have failed to investigate those claims and we fear that she is at high risk of torture as long as she remains in custody."