Bahrain: Five-year prison sentence for tweets is 'a travesty of justice'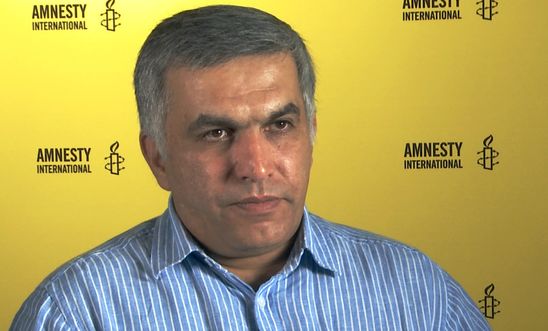 Responding to the news that Bahrain's Court of Cassation has upheld the conviction of Nabeel Rajab, one of Bahrain's most prominent human rights defenders, based on views he expressed on Twitter, Lynn Maalouf, Amnesty International's Middle East Research Director, said:
"Today's shameful verdict is a travesty of justice.

"The decision to uphold Nabeel Rajab's conviction and five-year sentence, simply for posting tweets expressing his opinions, exposes Bahrain's justice system as a complete farce. His treatment by the Bahraini authorities is completely unacceptable. 

"Nabeel Rajab is a prisoner of conscience. It is utterly outrageous that he has already spent two years behind bars – including nine agonizing months in solitary confinement, amounting to torture.

"Instead of prolonging his suffering and condemning him to several more years in prison the Bahraini authorities should quash his conviction and sentence and release him immediately and unconditionally."
On 5 June this year, Bahrain's Appeal Court upheld Nabeel Rajab's five years prison sentence for comments posted and retweeted on his Twitter account about the killing of civilians in Yemen by the Saudi Arabia-led coalition and allegations of torture in Jaw prison after a prison riot in March 2015.
He was convicted of "spreading false rumours in time of war", "insulting public authorities" and "insulting a foreign country".
He is also serving two years for TV interviews he gave in 2015 and 2016, when he reportedly said that the Bahraini authorities were not granting human rights organisations access to the country.