Azerbaijan: Release jailed dissidents for positive legacy of European Games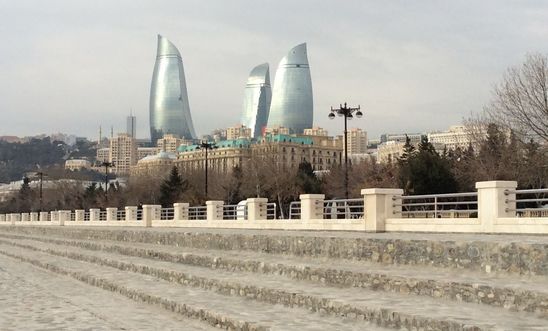 Flame Towers, Baku © Amnesty International
Azerbaijan must immediately and unconditionally release all government critics unfairly imprisoned if the European Games are to leave a positive legacy, Amnesty International said today ahead of the closing ceremony on Sunday.
An ongoing human rights crackdown that escalated in the run up to the Games has seen journalists, lawyers, youth activists and opposition politicians harassed, intimidated and jailed on trumped-up charges by the authorities under the repressive rule of President Ilham Aliyev.
At least 20 prisoners of conscience are currently in jail in Azerbaijan merely for criticising or challenging the government. On 10 June, two days before the opening ceremony, Amnesty was barred from entering the country to launch a new report. The following day it emerged that journalists from The Guardian, Radio France International and German broadcaster ARD had also been banned.
The trials of Amnesty prisoners of conscience Leyla Yunus and her husband Arif are reportedly due to begin soon. Leyla Yunus, a 60-year-old award-winning human rights activist, director of Azerbaijan's Institute for Peace and Democracy and one of the most outspoken and high-profile critics of the government, was arrested last July - a few days after calling for a boycott of the European Games on human rights grounds. Arif Yunus was arrested five days later. They are being held on trumped-up charges of treason, conducting illegal business, tax evasion, abuse of authority, fraud and forgery. Both have been in pre-trial detention for almost a year.
Denis Krivosheev, Amnesty International's Deputy Programme Director for Europe and Central Asia, said:
"The crude attempt to create a 'criticism free zone' around the Games by jailing and intimidating critics and banning international journalists and human rights organisations, has backfired severely.

"International media coverage of the crackdown has held a mirror up to Azerbaijan and showed the world that the country has something very shameful it wants to hide."
The European Games were devised by the European Olympic Committees as a continent-wide event similar to the Asian Games. Olympic events claim to embrace the values of respect, diversity and mutual understanding and are also supposed to create a "unique set of environmental, social and economic legacies that can change a community, a region, and a nation forever".
Despite widespread media coverage of Azerbaijan's poor human rights record, the International Olympic Committee – the body responsible for upholding these values – has failed to speak out. The European Olympic Committees and the vast majority of national committees with teams taking part have also refused to comment, with only the German and Swedish Olympic Committees raising concerns publicly about human rights violations.
However, this week two important intergovernmental bodies have condemned the human rights situation in Azerbaijan. On Tuesday, the Parliamentary Assembly of the Council of Europe adopted a resolution calling explicitly for the release of wrongfully detained activists and civil society leaders in Azerbaijan.
Then on Wednesday, the UN's Human Rights Council released a statement supported by 24 European countries and the USA, expressing concern about the "shrinking of space for civil society and freedom of expression in Azerbaijan" and calling for an end to the crackdown.
Denis Krivosheev added:
"What started as a domestic crackdown on dissent ahead of the Games became an orchestrated attempt to evade all international scrutiny as journalists and NGOs were banned. If the Azerbaijani authorities have learned anything from the negative media coverage of their human rights record, it should be that banning NGOs and media is not good PR. They must stop locking up, harassing and intimidating people who challenge or criticise the government.

"The only way to reverse what looks set to be a seriously tainted legacy of these Games is for the authorities to stop the crackdown on independent NGOs, allow freedom of expression, and immediately and unconditionally release government critics imprisoned on false charges. International, European and national Olympic committees must also end their deafening silence and add their voices to those who have spoken out for change."