Argentina: historic vote to legalise abortion strongly welcomed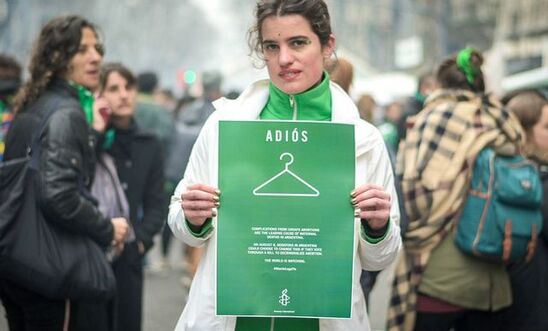 A campaigner for legal abortions in Buenos Aires in 2018 © Amnistía Internacional Argentina
Chamber of Deputies vote means issue now goes to Senate which could 'make history' 
'The legalisation of abortion saves lives' - Mariela Belski
Amnesty International has strongly welcomed the preliminary approval of a bill on the voluntary termination of pregnancy passed today by Argentina's Chamber of Deputies.
The bill - which received 131 votes in favour, 117 against and six abstentions - decriminalises and legalises abortion in the first 14 weeks of pregnancy. Once this period has passed, abortion would continue to be legal in cases of risk to the life or health of the pregnant woman, or in cases of rape. 
The vote is a landmark achievement for the recognition of the human rights of women, girls and others who can become pregnant in the country, and the bill will now pass to the Senate, which has an opportunity to make history by passing the law and bringing an end to clandestine abortions in the country. 
Mariela Belski, Executive Director of Amnesty International Argentina, said: 
"This is an achievement of the women's movement.

"Legal abortion is an imperative for social justice, for reproductive justice and for human rights.

"The legalisation of abortion saves lives and addresses a key public health issue.

"The Senate must now put an end to clandestine abortions."
Global trend toward legal abortion
In the last 25 years, more than 50 countries - including the USA, Canada, Australia, China, South Africa and Uruguay - have amended their legislation on abortion, recognising that access to safe abortion is fundamental for the protection of women and girls' rights, life, health and autonomy.