Anti-racism march will be "most ethnically diverse demonstration Northern Ireland has ever seen"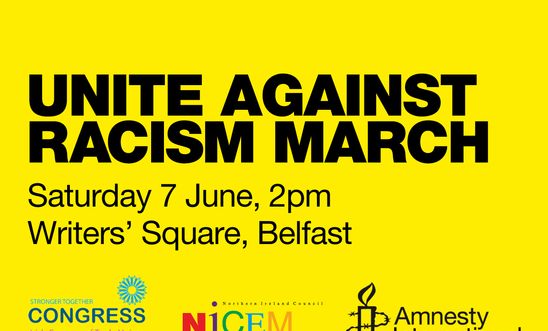 "It will be a very colourful, very family-friendly event, with marchers, banners and musicians from across the world on the streets of Belfast."
Organisers of a major march against racism in Belfast this Saturday have said that they expect it to be the most ethnically diverse political demonstration Northern Ireland has ever seen.
The Northern Ireland Committee of the Irish Congress of Trade Unions (NIC-ICTU), the Northern Ireland Council for Ethnic Minorities (NICEM) and Amnesty International, which are organising the march, say that they have had an unprecedented response from minority ethnic communities to the march.
Saturday's event is designed to reassure ethnic and religious minorities that they are a welcome and integral part of the community and to call for effective and united political leadership against racism. 
A spokesperson for the march organisers said: 
"We expect the Unite Against Racism march to be the most ethnically diverse demonstration that Belfast has ever seen.
"We have been overwhelmed with the response from members of from minority ethnic communities to the march. Traditionally many people from those communities have felt it safer to keep their heads down when it comes to politics in Northern Ireland. But we are expecting a big turn-out from all strands of the community, who feel they want to take a stand against the rise of racism in our society."
"This Saturday's march will give ordinary people from across the community a family-friendly opportunity to come together to show solidarity with all ethnic and religious minorities in Northern Ireland and to demand better from our politicians. It is going to be a very colourful, very family-friendly event, with marchers, banners and musicians from across the world on the streets of Belfast."
The Unite Against Racism march through Belfast is planned for Saturday 7 June at 2pm with marchers being asked to gather from 1:30pm in Writers' Square in Belfast.