Amnesty's virtual reality-themed #360Syria project shortlisted for two awards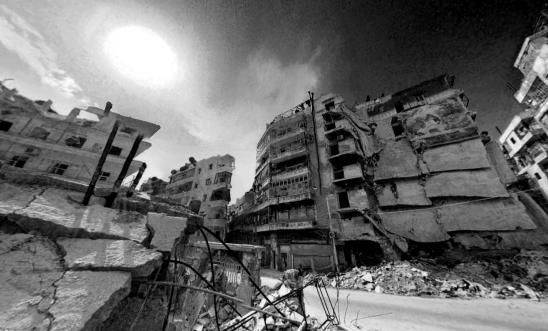 Part of a 360-degree 'photosphere' from the project © Lamba Media Production
'Syria is the world's biggest humanitarian crisis and it's vital that we explore new and innovative ways of connecting people to what's happening there' - Kate Allen
Amnesty International's virtual reality-themed #360Syria project has been shortlisted for two Third Sector Awards.
#360Syria has utilised extremely stark images of the devastation wrought by Syrian government barrel bombing of the besieged city of Aleppo to produce strongly "immersive" - and profoundly impactful - experiences for the viewer.
With "Fear of the sky", Amnesty has brought together specially-created 360-degree photography, narration, sound recordings, 3D data graphics and videos gathered by Amnesty-trained Syrian media activists from the
Lamba Media Production organisation
. Visitors to Fear of the sky can navigate around full-screen "photospheres" which capture the apocalyptic scenes and sounds after barrel bombing attacks in Aleppo. 
Meanwhile, last year Amnesty launched its #360Syria street campaign, which deployed virtual reality headsets - part of Amnesty's new technology-based campaigning. Amnesty has used the VR viewers in its street fundraising operations in London, Manchester, Bristol and Leeds, as well as at festivals and in schools, allowing a wide range of people to see in vivid detail some of the scenes of destruction in barrel-bombed districts of Aleppo. Amnesty campaigners have seen a strong and often emotional response from the public and a significant increase in people signing up to direct debit donations toward Amnesty's human rights work. The highly cost-effective project uses inexpensive refurbished smartphones and low-tech VR headsets (costing less than £15 each). 
In addition to the campaigning impact of the project, the #360Syria project is assisting Amnesty's efforts to build a body of evidence of human rights violations and crimes against humanity being committed in Syria. Similarly, Amnesty is set to release (18 August) a new 3D-imaged reconstruction of Saydnaya prison near Damascus, where numerous detainees have faced torture and other abuses at the hands of interrogators and guards.
Amnesty International UK Director Kate Allen said:
"We're delighted that #360Syria is gaining wide recognition.

 

"Syria is the world's biggest humanitarian crisis and it's vital that we explore new and innovative ways of connecting people to what's happening there.

 

"Many of us might think we already know about the Syrian government's barrel bombing of places like Aleppo, but viewing apocalyptic scenes as part of an immersive experience provides you with a whole new level of understanding."
All the winners and shortlisted entries will be showcased at the Third Sector Awards presentation at the Lancaster London hotel on 14 September 2016.
Blanket barrel bombing
The Syrian president Bashar al-Assad has claimed that Syrian government forces do not possess or use barrel bombs, though their use has been widely documented. The Syrian Network for Human Rights has reported that over 6,000 barrel bombs were dropped by Syrian government forces in the first half of 2016 alone, with large numbers hitting Aleppo. In a
report
last year, Amnesty detailed the horrific damage done by Syrian government barrel bombing of Aleppo, where scores of people a month were being killed in the attacks - with schools, hospitals, mosques and crowded market places all hit.