Amnesty's Christmas gifts catalogue launched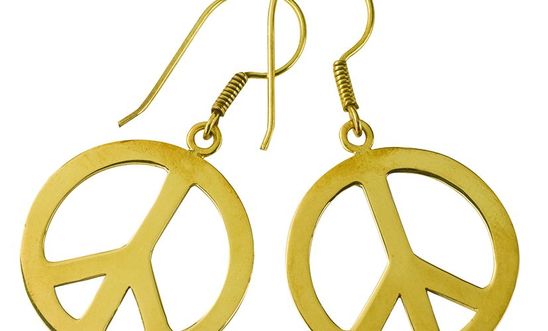 Make earrings not war - Peace Earrings made from recycled bomb-shell casings
Amnesty International UK has launched its catalogue of gifts for Christmas and beyond, with hundreds of ethically-sourced and highly imaginative gift ideas.
Items available in the 60-page catalogue this year include animal printing blocks, a retro owl cushion kit, peace earrings made from recycled brass bomb-shell cases, a finger-painted sarong, banana-leaf slippers, and a wide range of in-your-face message t-shirts, tote bags, greetings cards, books, candles and other carefully-chosen stocking-fillers.
All the items in the catalogue are ethically-sourced and many of them are from small local suppliers who support local communities by providing people with marketable skills and a fair wage.
Highlights include:
Banana leaf slippers at £22.50. Highly original, unisex, made from banana leaf outer, with a leather sole and padded cotton inner and a woollen trim, they are made in Bangladesh. Nonslip.
Make earrings not war with Amnesty's recycled brass Peace Earrings, made from repurposed brass bomb-shell casings in Cambodia, priced at £19.50.
The Steel White Stag ornament is made from steel wire, jute and cloth, using an unusual papier-mâché-type method. Made in central India by a small group of 20 men and women, it's £12.00.
Wear your heart on your waistline with Amnesty boxer shorts, in organic cotton with candles all around the waistband in black and white. £19.50 for a set of three.
The Amnesty One World Calendar 2016 is £14.95 and contains 12 powerful arty photographs from around the globe, this year the theme is water and the damage it can cause in absence and abundance. In a large format, spiral-bound, one month to view.
Choose from a range of turtledove recycled cashmere products including gloves, hats and yoga socks handmade in Shropshire using discarded cashmere purchased from charity shops and given a new lease of life. Yoga socks are £24.00.
The Dalit Range is a line of rich coconut oil-based soap products made by the Dalit people of Kerala, India, using only natural ingredients. Ideal for sensitive skin, free from animal testing. The Shaving Soap and Rosewood Bowl Set is £14.50.
Amnesty has a no-quibble money-back guarantee and offers free postage for orders over £60.
Further information and products, see http://amnestyshop.org.uk/ http://amnestyshop.org.uk/free-2015-catalogue-ai.html