Amnesty UK to host first-ever Wales national conference / Mae Amnest DU yn croesawu Cynhadledd Gyntaf Amnest Cymru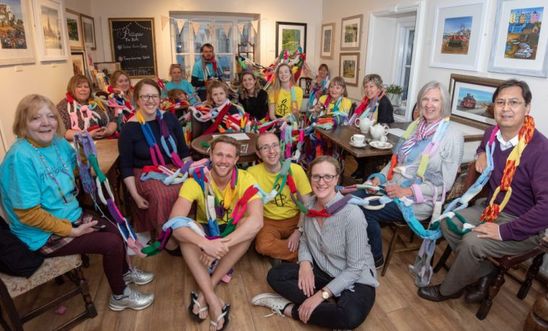 The Cardiff Amnesty knitted a chain to symbolise Nazanin Zaghari-Ratcliffe's imprisonment © Natasha Hirst/Hirst Photos
ENGLISH 
Conference in Aberystwyth to celebrate human rights activism in Wales
"We can all make a difference, and we can all be human rights defenders" – Elin Jones AM
"Protecting human rights defenders around the world is a matter of absolute urgency" - Kate Allen
Amnesty International will host its first-ever national conference in Wales this weekend.
The conference - Wales: small nation, global human rights defender - celebrates activism in Wales on human rights issues of both national and international interest.
It brings together human rights activists from around the country for an action-focused day on a wide range of human rights issues, including: modern slavery, human rights education, refugee issues, the ongoing detention of Nazanin Zaghari-Ratcliffe, and illegal settlements in the Occupied Palestine Territories. 
Elin Jones, Plaid Cymru AM for Ceredigion, said:
"The conference is a fantastic opportunity to meet people from all across Wales who share an extraordinary passion for a wide range of human rights, from fighting climate change to welcoming refugees.

"It will give us all a powerful reminder that people from all walks of life can have a positive impact on our communities. We can all make a difference, and we can all be human rights defenders.

"The conference also comes at a critical time when we are witnessing unprecedented attacks on human rights defenders around the world. I am proud to offer my support so they can continue to campaign for what is right and fair for all of us."
There are a total of 10 Amnesty groups in Wales, with more than 3,700 members in the country. The conference will be held at the Aberystwyth University campus on Saturday (19 October).
Kate Allen, Amnesty International UK Director, said:
"The Amnesty Wales conference will highlight and celebrate the role that people in Wales play in defending human rights at home and abroad.

In Wales and around the world, ordinary people are standing up for justice, equality and human rights – and we are proud to stand alongside them.

Protecting human rights defenders everywhere in the world is a matter of absolute urgency. Now more than ever, they need our support."
WELSH 
Bydd y Gynhadledd yn Aberystwyth yn dathlu gweithredu iawnderau dynol yng Nghymru.
"Gall pob un ohonom wneud gwahaniaeth a gallwn oll fod yn amddiffynwyr iawnderau dynol" – Elin Jones AC
"Mae diogelu amddiffynwyr iawnderau dynol o amgylch y byd yn fater o'r pwys mwyaf" – Kate Allen
Bydd Amnest Rhyngwladol yn cynnal ei chynhadledd genedlaethol gyntaf yng Nghymru'r penwythnos yma.
Bydd y gynhadledd – Cymry: cenedl fechan, amddiffynnwr iawnderau dynol byd-eang – yn dathlu gweithredu yng Nghymru ar bynciau iawnderau dynol o ddiddordeb cenedlaethol a rhyng-genedlaethol.
Daw ȃ gweithredwyr iawnderau dynol ynghyd o bob cwr o Gymru ar gyfer diwrnod a fydd yn canolbwyntio ar weithredu ar ystod eang o iawnderau dynol, yn cynnwys: caethwasiaeth fodern, addysg iawnderau dynol, materion yn ymwneud ȃ ffoaduriaid, carchariad Nazinin Zaghari-Radcliffe ac aneddiadau anghyfreithlon yn Nhiroedd Meddiant Palesteina.
Dywedodd Elin Jones, AC Plaid Cymru dros Geredigion:
"Mae'r gynhadledd yn gyfle ardderchog i gyfarfod ȃ phobl o bob cwr o Gymru sy'n rhannu brwdfrydedd anhygoel ar ystod

eang o iawnderau dynol, o ymgyrchu dros newid hinsawdd i groesawu ffoaduriaid.

Dyma ddigwyddiad pwerus a fydd yn ein hatgoffa y gall pobl o bob cefndir ddylanwadu'n gadarnhaol ar ein cymunedau. Gall pob un ohonom wneud gwahaniaeth a bod yn amddiffynwyr iawnderau dynol.

Daw'r gynhadledd ar adeg tyngedfennol pan dystiwn i ymosodiadau digyffelyb ar amddiffynwyr iawnderau dynol o amgylch y byd. Mae'n anrhydedd gennyf gynnig fy nghefnogaeth fel y gall y gweithredu barhau i sicrhau yr hyn sydd yn iawn a theg i ni i gyd."
Mae 10 grŵp Amnest yng Nghymru gyda mwy na 3,700 o gefnogwyr yn y wlad. Cynhelir y gynhadledd ar gampws Prifysgol Aberystwyth ar ddydd Sadwrn, 19eg Hydref.
Dywedodd Kate Allen, Cyfarwyddwr Amnest Rhyngwladol DU:
"Bydd cynhadledd Amnest Cymru yn tanlinellu ac yn dathlu rôl pobl Cymru wrth iddynt amddiffyn iawnderau dynol gartref a thramor.

Yng Nghymru ac ar draws y byd mae pobl gyffredin yn sefyll dros gyfiawnder, cydraddoldeb ac iawnderau dynol – ac rydym yn falch o sefyll ysgwydd wrth ysgwydd ȃ hwy.

Mae amddiffyn amddiffynwyr iawnderau dynol ymhob man o amgylch y byd yn fater o'r pwys mwyaf."