Amnesty Media Awards 2020 finalists announced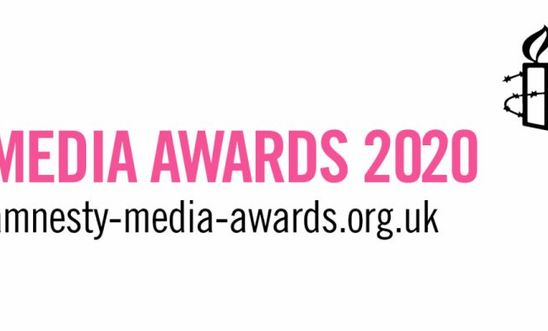 Amnesty International UK has today revealed the finalists for the Amnesty Media Awards 2020, a prestigious set of awards now in its 28th year.
The winners of this year's awards will be announced at an awards ceremony at BFI Southbank in central London on Wednesday 22 April, hosted by television presenter, journalist & broadcaster, Naga Munchetty.
The 11 award categories celebrate excellence in human rights journalism from the past year and applaud the courage and determination of journalists and editors who sometimes put their lives on the line to report on vital human rights issues.
The judging panels were made up of high-profile UK journalists and representatives from Amnesty.  
Amnesty Media Awards 2020: Finalists
Investigations
The Bureau of Investigative Journalism

- One Bomb. 11 Children Killed. And the evidence that led to the US

Hardcash Productions for ITV

- Undercover: Inside China's Digital Gulag

The

Guardian

- Cancer Town

BBC Four

- Spotlight on the Troubles: A Secret History
​News (Written Word)
Andy Lines, Daily Mirror

- Famine in the Yemen

Ian Birrell, The Mail on Sunday

- Inside China's Concentration Camps

Annie Kelly, The Guardian

- Rape and abuse: the price of a job in Spain's strawberry industry?

Sophia Yan, The Daily Telegraph

- 'I didn't think I would ever be let out': How China tortured a UK consulate worker over Britain's role in Hong Kong
Regional Media
HuffPost UK and The Ferret

- Just Surviving: A Decade Of Austerity In Scotland

Impartial Reporter

- Fermanagh Historical Child Sexual Abuse

ITV Borders

- Syrian Stories

Glasgow Evening Times

- Glasgow's Homelessness Crisis
Features
Josie Ensor, The Sunday Telegraph

- 'She'll never know she had a mother who loved her' - Yazidi women forced to abandon their babies born to Isil

Ghaith Abdul-Ahad, The Guardian

- 'I've seen death in this city, but nothing as sad as this': how a ferry disaster exposed the corruption devastating Iraq

Bethan McKernan, The Guardian

- 'Now it's just ghosts': Yemenis living under the shadow of death by airstrike

Christina Lamb, The Sunday Times Magazine

- The man they call doctor miracle
​Documentaries
BBC Arabic

- Iraq: State of Mind

Sandpaper Films for BBC Four

- The Trial of Ratko Mladić

Channel 4 News/ITN Productions

- For Sama

Hardcash Productions for ITV

- Exposure - Undercover: Inside China's Digital Gulag
Digital Innovation
Al Jazeera English

- All Hail the Algorithm

Thomson Reuters Foundation

- Stonewall 50

The Bureau of Investigative Journalism

- LockedOut: How Britain keeps people homeless

BBC World Service

- El Helicoide; From shopping mall to torture prison
​Gaby Rado
Bethan McKernan

- The Guardian   

Sarah Newey

- The Telegraph

Sue-Lin Wong

- The Financial Times

Sahar Zand

- BBC, Channel 4's 'Unreported World'
Student Journalist
Freddie Hayward

- University of Oxford

Kenneth Sanchez

- University of Kent  

Sam Doak

- University of Glasgow

Michelle Woods

- Cardonald College
Photojournalist
Tariq Zaidi

- The Guardian, El Salvador: A country ruled by gangs

Bruno Fert

- Granta Magazine, Refuge

Mathias Braschler and Monika Fischer

- The Guardian, 'He didn't destroy me. We carry on. He lost.': survivors of terror attacks look back

Tommy Trenchard

- The Sunday Times, After the Storm
Radio & Podcasts
BBC World Service/ BBC Current Affairs

- Assignment: The Undercover Migrant

File on 4, BBC Radio 4

- Sex Offenders Fleeing Abroad

BBC Radio 5 Live

- Modern Day Slavery - Sanu

Today in Focus (The Guardian)

- Growing up with Gangs/ Abandoned at Sea 
​News (Broadcast)
BBC News

- Children of War

BBC News

- Uigher Families Separated

Sky News

- Idlib War Crimes

BBC News Arabic

- Idlib 'double tap' air strike Russia says never was