Amnesty Media Awards 2018 finalists announced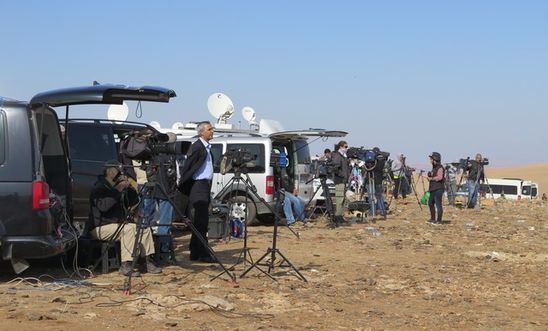 Amnesty International UK has today revealed the finalists for its Media Awards 2018, a prestigious set of awards that have now been running for 27 years.
The winners of this year's awards will be announced at an event in central London on Wednesday 28 March, hosted by journalist and broadcaster Jeremy Paxman.
The 11 award categories celebrate excellence in human rights journalism over the past year, and applaud the courage and determination of journalists and editors who sometimes put their lives on the line to report on vital human rights issues.
This year's awards were extremely competitive, with Amnesty receiving more than 275 entries across the categories. For the first time, the awards will include an Impact Award, chosen by Amnesty to recognise journalism that has helped bring about important human rights change.
Previous award winners include Marie Colvin, Christina Lamb, Sue Lloyd-Roberts, Robert Fisk and Mike Thomson, among many others.
Kate Allen, Director of Amnesty International UK, said:
"Amnesty was itself launched because of a newspaper article, so we're very aware of the vital role the media plays in exposing human rights abuses and helping to change things for the better.
"The best journalism has the ability to bring powerful images and stories straight into our living rooms, to hold leaders to account, and to inspire us to take action.
"At a time when countries like Turkey are silencing many of their journalists, there's a pressing need to champion the important work of the free media.
"Our awards celebrate the creativity, the bravery and the skill of some of the world's best human rights reporters."
The Finalists:
Investigations
BBC Arabic and BBC World Service

, Weapons of Mass Surveillance

Reuters

, Duterte's War

BBC 2 Newsnight

, The Massacre at Tula Toli
News
The Guardian

, Massacre at Tula Toli (Oliver Holmes)

Sky News

, Rohingya Exodus 

The Guardian

, Chechens tell of prison beating and electric shocks in anti-gay purge: 'They called us animals' (Shaun Walker)
Photojournalism
Robin Hammond, 

The Observer/Guardian Online, People like us

Tommy Trenchard

, The Sunday Times, Exodus: The desperate flight of the Rohingya

Claire Thomas

, Sunday Times, Saving lives in Mosul's Old City
Innovation
The Guardian

, Bussed Out

The Guardian

, The Defenders Series

Huffington Post

, House Without Windows
Documentaries (radio and podcast)
BBC Radio 4 'File on Four'

, A Greek Tragedy

BBC World Service

, The Lost Children of ISIS

BBC World Service

, Sex Slaves of Al Shabab 
Features
Gary Younge

, The Guardian, The boy who killed and the mother who tried to stop him

Anthony Loyd

, The Times Magazine, Children of Islamic State

Tracy McVeigh

, The Observer/Guardian Online, 'We give people their humanity back' - Mental health in Croatia
Documentaries (television and film)
ITV

, The Forgotten Children

BBC 4

, Last Days of Solitary

Sky 1

, Ross Kemp: Libya's migrant hell
Nations and regions
BBC Scotland Investigations Unit

, Humans for Sale

TheDetail.TV

, Mother and baby homes: the case for a public inquiry (Kathryn Torney)

Hackney Gazette

, The Hidden Homeless (Emma Youle)
Student
Claisse Opulencia

, Canterbury Christ University, The Vulnerability of Homeless Women

Selena Randhawa

, City University, 'Our society is broken': what can stop Canada's First Nations suicide epidemic?

Simisola Jolaoso

, Goldsmiths, University of London, Forensic Nurses: Fighting Sex Crimes in South Africa
Gaby Rado Award (for best new journalist)
Kieran Guilbert

, Thomson Reuters Foundation  

Nawal Al Maghafi

, BBC

Sally Hayden

, Freelance
The nominations for the Impact Award are:
Nawal Al Maghafi

, BBC

Reuters

, Duterte's War

Callum Tulley, BBC Panorama

, Undercover: Britain's Immigration Secrets