Amnesty launches kids' t-shirt slogan competition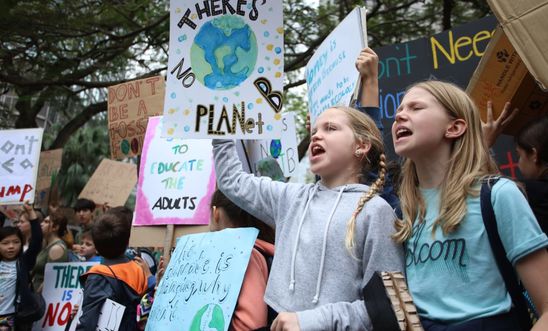 We're calling on all young activists, change-makers, and future leaders to share their slogans and have their voices heard' - Kerry Moscoguiri
'We're calling on all young activists, change-makers, and future leaders to share their slogans and have their voices heard' - Kerry Moscoguiri
Amnesty International UK has launched a children's t-shirt slogan competition to highlight the importance of children's rights and celebrate the global wave of youth activism. 
On the 30th anniversary year of the UN Convention on the Rights of the Child, Amnesty is releasing a limited-edition children's t-shirt collection, repurposing classic Amnesty slogan t-shirts into children's sizes and designing a brand-new t-shirt based on one lucky child's design.
The challenge calls for entrants to submit their best slogan ideas based on an issue they feel passionate about – whether that's right to an education, the desire for a fairer world or the fight to protect the planet.
Kerry Moscoguiri, Amnesty International's Director of Campaigns and Communications, said:
"Children around the world are speaking up for what they believe in and care about – from the school strikes for climate to the student protests to end gun violence they are fighting for their rights - and it's time for the world to listen and act.
"Every child has the right to express their views, feelings and wishes in all matters affecting them, and to have their views considered and taken seriously.
"We want to celebrate this and all the work young activists are doing to make the world a better and fairer place. That's why we're calling on all young activists, change-makers, and future leaders to share their slogans and have their voices heard."
UN Convention on the Rights of the Child
The Convention on the Rights of the Child is a landmark document which sets out the civil, political, economic, social and cultural rights that all children everywhere are entitled to. The Convention was adopted by the UN on 20 November 1989 and this year will mark the 30th anniversary of this important treaty. 
This week (23 September) sixteen children - including Greta Thunberg – from 12 countries around the world used the Convention to present an official complaint to the United Nations Committee on the Rights of the Child to protest lack of government action on the climate crisis.
Competition details
The competition is open to any young person up to the age of 18. To enter, all they need to do is complete the form below by 11th October with their t-shirt slogan, and a few words about who they are, and how they came up with their slogan. The competition will be judged by a panel of Amnesty experts, and winning designs will be on sale in November this year. The winner will also receive a prize pack including their very own t-shirt as well as Amnesty books and merchandise. The winning t-shirt will be professionally designed, and ethically made and all profits from the sale of the t-shirt will go to Amnesty International UK.