Amnesty International UK Media Awards 2021 finalists announced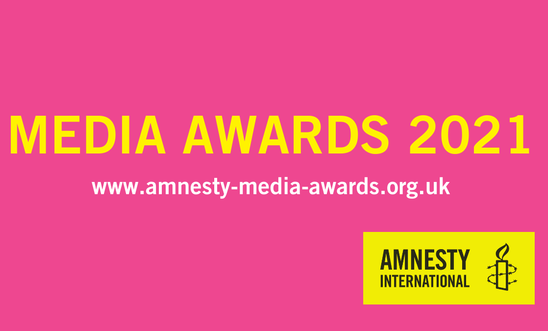 Amnesty International has today (16 March) revealed the Amnesty UK Media Awards 2021 finalists, a prestigious set of awards that have now been running for 29 years.
The winners of this year's awards will be announced at a virtual event on Wednesday 28 April.
The 11 award categories celebrate excellence in human rights journalism over the past year and applaud the courage and determination of journalists and editors who sometimes put their lives on the line to report on vital human rights issues.
The judging panels were made up of high-profile UK journalists and Amnesty representatives.  
The Finalists:
Broadcast News
BBC Africa Eye

: Lagos Inferno: The Explosion that Rocked Nigeria

Channel 4 News

: Carers in Scotland denied death in service payment

CNN International

: Lekki Toll Gate Shooting Investigation

Sky News

: Yemen's Humanitarian Crisis
Features
CNN International

: They were sent to a shelter for safety. Instead, these women say they were sexually abused

Financial Times

: Inside Thailand's Youth Revolution

CNN International

: 'Black Gold' – How global demand for hair products is linked to forced labor in Xinjiang

The Guardian

: Fashion's dirty secret: how sexual assault took hold in jeans factories
Regional Media
BBC Radio Foyle

: Special reports on domestic abuse

WalesOnline

: 'I came to the UK on an inflatable dinghy bobbing around in the Channel for hours'

The Times (Scotland)

: Hardeep Singh Kohli investigation: The survivors finally have their say

BBC One Scotland

: A Deadly Trade
Student Journalist
Caitlin Kelly

, City, University of London: When Sex Games Go Wrong

Hanna Linnéa Mödder, London College of Communication, University of the Arts London:

"I'm afraid of the disease but mostly of dying from hunger"

Victor Jack, University of Cambridge

:  I am an Uighur who faced China's concentration camps. This is my story

Nimra Shahid, City, University of London

: Cummings recruit sacked after suggesting police use 'live rounds' on BLM protesters
Radio & Podcasts
BBC Radio 4

: From the Ashes of New Cross

Prison Radio Association / Resonance FM / Radio Reverb / East Leeds FM

: Prison Bag selection

Podcast platforms including Apple Podcasts and Spotify

: The Bellingcat Podcast, Series 2

BBC World Service

: The Many Colours of Raqqa
Written News
The Independent

: How Israel is 'bombing Gaza blind' with old intelligence

Middle East Eye

: The Killing Fields of Tarhuna

The Guardian

: Croatian Police Brutality Against Crosses on our heads to 'cure' Covid-19: refugees report abuse by Croatian police

The Telegraph

: After the bombs they attacked with knives, claim Ethiopians fleeing peace prize winner's war
Photojournalism
Noriko Hayashi, Granta

: Japanese Wives

Robin Hammond, The Guardian

: All we can offer is the chain

Sam Tarling, The Times

: Yemen's children condemned to sickness and famine by war

Smita Sharma, National Geographic Magazine

: Stolen Lives
Best Use of Digital Media
Al Jazeera Digital

: Living in the Unknown

Al Jazeera English Online / Al Jazeera Digital

: Motherhood in Crisis

The Guardian

: Beirut blast: a night of horror, captured by its victims

Al Jazeera English Online

: The $5 Forests
The Gaby Rado Award for New Journalist
Nader Ibrahim, BBC News Arabic

: Libya's Lethal 'Game of Drones'

Nicola Kelly, The Guardian

: No Place To Call Home

Nellie Peyton, Thomson Reuters Foundation / The New Humanitarian

: Over 50 women accuse Ebola aid workers of sex abuse in Congo

Venetia Menzies, The Times & The Sunday Times

: One woman's journey into modern slavery
Investigation
ITV News

: Gymnastics Abuse Scandal

The Sunday Times

: War Crimes Scandal

Channel 4 Dispatches

: Starbucks and Nespresso: The Truth About Your Coffee

BBC News Arabic

: The Schools that Chain Boys
Documentaries
ITV Exposure

: In Cold Blood

BBC Two

: Once Upon a Time in Iraq

BBC 4

: The Accused: Damned or Devoted?

BBC Storyville

: Welcome to Chechnya: The Gay Purge