Amnesty International 'Ambassador of Conscience Award' 2018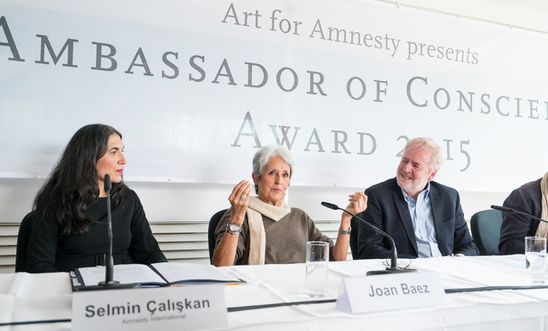 Ambassador of Conscience Award 2015 © Amnesty International
Amnesty International will announce the recipient of its 'Ambassador Conscience Award' for 2018 on Saturday 21 April.
The award will be officially presented at a ceremony in Amsterdam, the Netherlands, to coincide with the 50th anniversary of the opening of Amnesty in the country.
The Ambassador of Conscience Award is Amnesty's highest accolade, celebrating an individual or group who have shown exceptional courage standing up to injustice, used their talents to inspire others and who have furthered the cause of human rights.
Past winners include Nelson Mandela, Malala Yousafzai, Ai Weiwei, Harry Belafonte, Joan Baez and Alicia Keys.
The Ambassador of Conscience Award ceremony will take place on Saturday 21 April at 16.15HRS BST at the Amsterdam Theater, Danzigerkade 5, 1013 AP Amsterdam, Netherlands.