Amnesty hails new marriage equality law in Isle of Man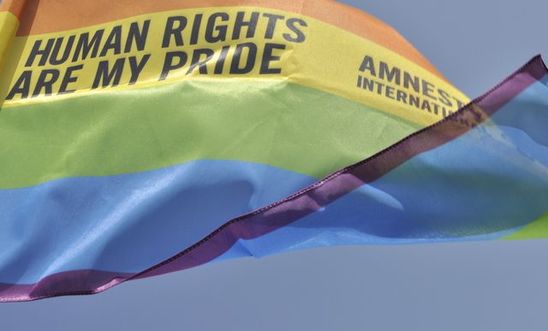 Northern Ireland only part of UK with marriage ban for same-sex couples
Amnesty International has welcomed the new marriage equality law in the Isle of Man, which comes into effect today, enabling same-sex couples to get married.
Northern Ireland is the only region of the United Kingdom where a ban on same-sex marriage is still in force, despite majority public support for equal marriage.
The Marriage and Civil Partnership Act is based on the same legal framework introduced in England two years ago and enables same-sex couples to marry in a civil ceremony or, subject to agreement, in a religious celebration. It is thought the island's first same-sex marriage is due to take place at the end of July.
Chief Minister Allan Bell has described the move - which was backed by Tynwald, the parliament of the Isle of Man, in April - as an "historic moment" for the island.
Patrick Corrigan, Amnesty International's Head of Nations and Regions, said:
"This is a landmark for the LGBT community on the Isle of Man and Chief Minister Allan Bell deserves thanks for delivering this important step for equality.

"Same-sex couples in the Isle of Man will now be able to get married in the company of their family and friends and with the full recognition of their local community, just as in England, Scotland and Wales. That is a powerful and loving message to send to every member of the island's LGBT community as well as to wider society.

"Last year Amnesty International wrote to the Isle of Man government encouraging this law change and we're now delighted to see equal marriage come into law on the island.

"The Isle of Man's law reform also throws into sharp contrast the situation facing gay and lesbian couples in Northern Ireland, who are still denied the right to get married by their government. This must change urgently, especially given the 70% support which now exists among the public, according to a recent survey."
There is widespread and increasing public support in Northern Ireland for the introduction of marriage rights for same-sex couples, following the Yes vote in the marriage equality referendum in the Republic of Ireland in May 2015.
Earlier this month an Ipsos MORI survey showed that 70% of people in Northern Ireland support same-sex marriage, with only 22% opposed. Last summer an estimated 20,000 people took part in a pro-equal marriage march in Belfast, organised by Amnesty International, Rainbow Project and the Irish Congress of Trade Unions.  The Amnesty International-backed Love Equality campaign, launched in March, has committed itself to securing civil marriage equality in Northern Ireland.
In November 2015 the Northern Ireland Assembly voted in favour of the introduction of same‐sex marriage for the first time, by a margin of 53 to 52 MLAs, but the Democratic Unionist Party blocked the motion using a "petition of concern" veto mechanism originally designed to protect minority rights.
Amnesty considers Northern Ireland law to be in breach of international human rights standards which specify that countries must not discriminate with regards to the right to marry and found a family on the basis of sexual orientation or gender identity.