Amnesty celebrates Britain's talented youth in prestigious Awards ceremony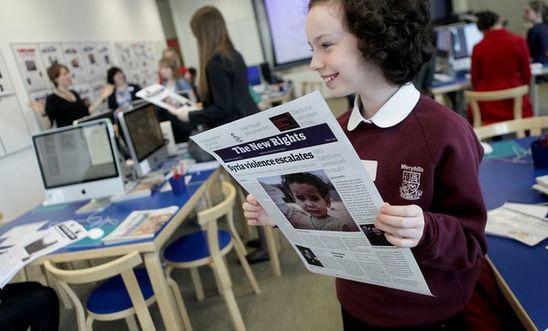 Amnesty International today (29 April) honoured some of the most talented young people in the UK at its headquarters in Shoreditch, east London at its prestigious Amnesty Youth Awards ceremony.
Pupils aged seven to 19 years old who have creatively interpreted a human rights topic through reporting, photography, song-writing, performing, fundraising and campaigning were celebrated, receiving Awards and performing their work.
Seventeen awards were made to winners at the ceremony which was hosted by BBC Radio 1Xtra's Nick Bright.
Winners included a group from Larbert High School from Stenhousemuir, Scotland, a 17-year-old girl from Camden School for Girls in North London, an Amnesty group from Chiltern Edge School, Oxfordshire, and a 12 year old pupil from Haringey, North London.
The 200-strong audience were also treated to live musical performances by the singer-songwriter finalists, including winners of the Upper Primary and Lower Secondary category Patcham High School for its 'Patcham Rights Respecting Song'.   The winning entries covered topics including prison sentences for young offenders, female genital mutilation, abuses committed in Guantanamo Bay detention centre and young people not in education, employment or training.
Speaking of the Awards, Amnesty UK's Campaigns Director Kerry Moscogiuri said:
"Amnesty's Youth Awards ceremony is a peak moment in our calendar that truly showcases Britain's young talent.  The Youth Awards throw a spotlight on the undeterred commitment, talent and creativity of so many of Britain's talented youth who are determined to put a stop to rights abuses.  It's an afternoon which leaves us all feeling inspired and hopeful."
The nationwide competition was popular, with more than 5,500 young people across the UK – from Cardiff to Selby and from Brighton to Dumfries – entering this year's Awards.
An Amnesty group from Pate's Grammar School in Cheltenham won the award for Best New Group.  Carys Sharkey, Colm Peare, Zed von Benzon, Kate Harding, Nastasha Ion attend the ceremony on behalf of the group to receive the award. Upon winning the award, they said:  "Winning this award is a great recognition of the work of the group. It's wonderful to bring the issues to the attention of young people who may not otherwise be aware of them."
Meanwhile, ten-year-old Nia Addo-Quintyne won Youth Reporter Award in the Upper Primary category. Upon winning her award, Nia said:
"I'm delighted because I worked really hard on my article and I'm proud and happy to have won."
FULL LIST OF WINNERS
Reporter Awards
Upper Primary                  Nia Addo-Quintyne (Holy Trinity CE Primary School)
Lower Secondary            Jordan Gordon-Harris (Bancroft's School)
Upper Secondary            Rhiannon Williams (Chelmsford County High School)
Further Education            Alannah Lewis (Camden School for Girls)
Photographer Awards
Upper Primary and Lower Sec          Benjamin Levey (Rhodes Avenue Primary School)
Upper Secondary and Further Ed    Chelsea May (Coleg Sir Gar)
Campaigner Awards
Best New Group                                    Pate's Amnesteam     (Pate's Grammar School)
Most Committed Group                        Larbert Amnesty Group (Larbert High School)
Best Campaign Activity                        Chiltern Edge School
Inspiring Youth Group Leader             Mr Mark Trapmore  (Freman College)
Fundraiser Awards
Most Effective Fundraiser             Rossett Amnesty (Rossett School)
Most Creative Fundraiser             Croydon High School Amnesty
Special Achievement                    Stranraer Academy Amnesty Group
Songwriter (Lyrics)
Upper Primary and Lower Secondary     Hannah McCurrie, Olivia Hood, Asha Gogna,
Ailsa Gawthrope, Miranda Evans (St Aidan's CE High School)
Upper Secondary and Further Education    Hannah Hodgson (Queen Elizabeth's School)
Songwriter (Performer)
Upper Primary and Lower Secondary         Patcham High School
Ella Cressweller, Rhiannon Hollingworth, Lily-Joy Bywaters, Michela Adams, Sophie Stenning, Georgia  McGoochan, Sulaiman Pillant, Haydn Howarth, Nico Repetto, Madeleine Fitzjohn-Scott, Kai Newcombe, Jem Negus, Angus Smith, Summer Smith-Robinson, Elisa Sweeney, Tom Satchwell, Rosie Whipp, Sam Crook, Harry King, Tillman Teichert and Harry Undrell Wiseman.  
Upper Secondary and Further Education    Elia Davidson (St Joseph's College)
Now in its second year, the Amnesty Youth Awards competition has become extremely popular in schools and colleges across the UK and this year more than 5,500 entries were submitted.
The Amnesty International Youth Awards competition is this year run in partnership with TES and supported by SOAS, Getty Images and players of People's Postcode Lottery.