Amnesty calls on Prime Minister to intervene in Nazanin's case after 'fruitless' FCDO meeting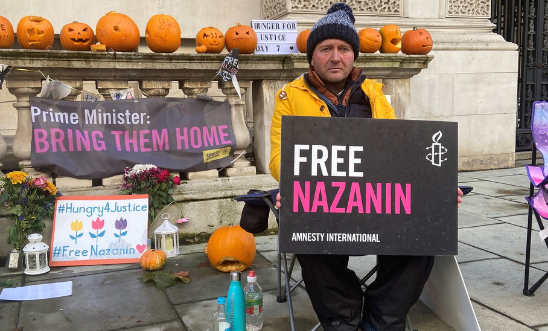 Amnesty International today demanded immediate action from the Prime Minister Boris Johnson over the ongoing fate of Nazanin Zaghari-Ratcliffe who continues to be held in Iran.
The demand follows a 'fruitless' meeting between her husband Richard Ratcliffe, who is 19 days into a hunger strike to raise awareness of her plight, and the FCDO minister James Cleverly.
Sacha Deshmukh, Amnesty International UK's CEO, said:
"It is bitterly disappointing that Richard's meeting with FCDO Minister, James Cleverly has been largely fruitless – yet again he has been given no promises and no real commitment from the Government to help get Nazanin released.
"We are now very concerned about Richard's health as he has vowed to carry on his hunger strike, despite already being weak on day 19.
"Enough is enough. We call on the Prime Minister to personally intervene in Nazanin and Anoosheh's cases.
"The UK Government must take decisive action to end the cruel games that Nazanin and her family have been forced to endure over the past five and a half years. We need a clearly articulated strategy for bringing Nazanin and all arbitrarily detained British nationals home from Iran - once and for all."