Amnesty annual report: UK 'setting a dangerous precedent to the world' on human rights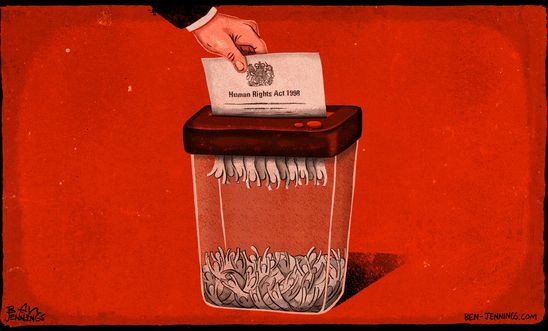 © Ben Jennings
"There's no doubt that the downgrading of human rights by this government is a gift to dictators the world over" – Kate Allen Amnesty's UK Director
Amnesty International has warned the UK is setting a dangerous precedent to the world by undermining human rights on a number of fronts, in its annual report on the state of the world's human rights published today (Wednesday 24 February).
The world's leading human rights organisation warned of a global pattern whereby the institutions set up to help protect rights are being undermined by governments attempting to evade oversight of their domestic records, with the UK singled out for particular criticism given its plans to repeal the Human Rights Act.
Amnesty International UK Director Kate Allen said:
"The UK is setting a dangerous precedent to the world on human rights.

"There's no doubt that the downgrading of human rights by this government is a gift to dictators the world over and fatally undermines our ability to call on other countries to uphold rights and laws.

"People around the world are still fighting to get basic human rights and we should not let politicians take our hard-won rights away with the stroke of a pen."
Amnesty's report follows similar concerns raised about the repeal of the Human Rights Act by the UN High Commissioner for Human Rights and the UN Human Rights Committee.
Other concerns raised about the UK in the Amnesty global report include:
Refugee crisis in Europe - UK refusing to share responsibility
The report notes the UK's continued opposition to participation in EU efforts to share responsibility for the increasing number of refugees arriving in Europe. Even with the significantly expanded Syrian resettlement scheme announced by the Prime Minister in September, the UK is receiving far fewer refugees than others in Europe. Amnesty is calling for an expansion in the rules which allow refugees to join family members in the UK, so that more relatives can be reunited with loved ones already here, as one means for the UK to better share responsibility at a time when globally the number of people forcibly displaced due to conflict and persecution has so greatly increased.
Concerns over 'power-grab' surveillance laws
The government's proposed Investigatory Powers Bill has faced relentless criticism, including from Amnesty and other human rights organisations, tech companies including Apple, the UN and two parliamentary committees. Concerns included the lack of adequate judicial oversight, concerns over uncontrolled data sharing with international governments, queries over the necessity and practicalities of mass surveillance (so-called 'bulk collection') and serious questions over the legality of the programme. Amnesty has called for a substantial redrafting of the proposed surveillance bill.
Arms to Saudi Arabia coalition used in Yemen atrocities
Since a Saudi Arabia-led military coalition intervened in the conflict in Yemen nearly a year ago, thousands of Yemeni civilians have been killed yet the UK government has continued to issue billions of pounds' worth of licences for the export of arms - including combat aircraft and bombs - from the UK to Saudi Arabia.  Amnesty has repeatedly called on the UK government to suspend all sales of arms to Saudi Arabia and its coalition partners could be used to commit human rights violations in Yemen. This call has been echoed by the parliamentary International Development Committee, while a group of leading international law experts have issued a comprehensive legal opinion showing that continued UK weapons exports to Saudi Arabia are in breach of the UK's own laws and international laws.
As well as suspending such arms sales to Saudi Arabia, the UK should support calls for a UN inquiry into the Yemen conflict.
Global overview
Amnesty is warning of trend of undermining human rights from governments deliberately attacking, ignoring, underfunding, and neglecting institutions set up to protect rights.
UN failing to fulfil its role
The Syrian conflict is one example of the catastrophic human consequences of the UN's failure to fulfil its vital role in upholding rights and international law and ensuring accountability. The incoming UN Secretary General, to be elected this year, must tackle governments that have wilfully thwarted UN action to prevent mass atrocities.
Examples of national attacks on human rights and the institutions which are there to protect them include:
China: escalating crackdown against human rights activists including mass arrests of lawyers and a series of sweeping laws in the name of 'national security'.
Egypt: the arrest of thousands, including peaceful critics, in a ruthless crackdown in the name of national security, the prolonged detention of hundreds without charge or trial and the sentencing of hundreds of others to death.
Hungary: sealing off its borders to thousands of refugees in dire need; and obstructing collective regional attempts to help them.
Israel: maintaining its military blockade of Gaza and therefore collective punishment of the 1.8 million inhabitants there, as well as failing, like Palestine, to comply with a UN call to conduct credible investigations into war crimes committed during the 2014 Gaza conflict.
Gambia: torture, enforced disappearances and the criminalisation of LGBTI people; and utter refusal to co-operate with the UN and regional human rights mechanisms on issues including freedom of expression, enforced disappearance and the death penalty.
Kenya: extrajudicial executions, enforced disappearances and discrimination against refugees in its counter-terrorism operations; and attempts to undermine the International Criminal Court and its ability to pursue justice.
Pakistan: the severe human rights failings of its response to the horrific Peshawar school massacre including its relentless use of the death penalty; and its policy on international NGOs giving authorities the power to monitor them and close them down if they are considered to be "against the interests" of the country.
Russia: repressive use of vague national security and anti-extremism legislation and its concerted attempts to silence civil society in the country; its shameful refusal to acknowledge civilian killings in Syria and its callous moves to block Security Council action on Syria.
Saudi Arabia: brutally cracking down on those who dared to advocate reform or criticise the authorities; and committing war crimes in the bombing campaign it has led in Yemen while obstructing the establishment of a UN-led inquiry into violations by all sides in the conflict.
Syria: killing thousands of civilians in direct and indiscriminate attacks with barrel bombs and other weaponry and through acts of torture in detention; and enforcing lengthy sieges of civilian areas, blocking international aid from reaching starving civilians.
USA: the continuing operation of the Guantanamo detention centre, an example of the grave consequences of its ¨global war on terror"; and its failure to prosecute those responsible for torture and enforced disappearances.